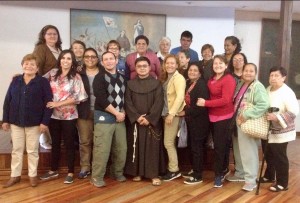 In the historical center of the capital of Ecuador, part of the beautiful "Plaza de San Francisco," stands a jewel of 17th-century architecture. How many emotions flooded me when I entered, with key in hand as house owner, to the Convent of San Francisco in Quito!
Months ago I got in touch with Fray Mario Ortega, Franciscan School Director. When I introduced myself and asked him about the possibility of holding the Annual Franciscan Encounter of the Ecuadorian Associates in his facilities, he was completely open to it. He even informed us a week before our meeting that Fray David Auqui would accompany us with the story of his congregation and to explain to us the Franciscan presence in the country.
It was thus that the key of the main auditorium of the Convent came to my hands. This is the place where we, nearly 30 people who responded to the invitation, would comfortably stay.
From August 17-20, 12 Associates (from Coast Region) escaped their routine and traveled (some for 11 hours by bus) to Quito. The local people received, guided and accompanied them as good hosts.
The Convent created and fostered an environment of deep mutual respect where we could talk and listen, give and receive. The theme was built around our charism and the individual and group mission as it relates to us today as members of a specific Franciscan community. The image of a circle (when holding hands) reminded us from the beginning that we were in a relationship where we can help and receive help, where we have to see ourselves on the same level and know that we are equal.
We called to mind the gifts that God gives us by being part of this community, the gifts that we count on to continue in the building of a new people and the responsibility to express our charism creatively every day. As we've done in previous meetings, we presented our reflections with sketches where Franciscan people were represented in casual situations: asking for attention in a parish office, visiting the sick, going to the doctor, participating in the Franciscan meeting, taking a bus...being people of joy, of prayer, of poverty, of contemplation, of ongoing conversion, of justice—being minority.
We persist with the certainty that if we continue—after a few years or many—as associates, it is for a major reason. We feel the Franciscan Sisters of Little Falls's support; but we also ask ourselves about how to be responsible members of this legacy. Our answers centered on being a witness in our family, neighborhood, work, parish, LIFE; being willing to put our gifts at the service of our greater community. We are aware of the path of holiness according to our personal vocation and we remember that we are complementary between religious and laity.
We finished our meeting with a walk through the historic city center. It is not easy to travel at the same pace and speed—with people of all ages and physical conditions—at 2,800 meters above sea level (almost 10,000 feet) but we did it! We even arrived to visit the monument: El Panecillo Virgin.
We give thanks to those who made it possible for us to meet and strengthen the relationship of our brother/sisterhood and joint mission.