Almost 200 donors joined the Franciscan Sisters to celebrate Mass, then enjoyed a meal and program in St. Francis Hall. It was a glorious day!
An event such as Donor Day has many moving parts and requires many hours from a multitude of people. Many thanks to Joan Wingert, the sisters' choir and all the musicians—which included sisters, students from St. Francis Music Center and Associates Ramona and Russ Kadow—for a meaningful liturgy. Presider Father Bob Kieffer is a dear friend of the sisters, and Sister Jan Kilian beautifully tied in the gospel message with the fruits of the harvest, highlighting the success of the Welcoming House gardens. Thank you, all!
The coffee and pastries before Mass and the turkey dinner that followed were top notch in every way. People raved about the food. Special thanks to Terry Bernardy and his capable staff and dedicated volunteers. Nearly 300 people were served. Wow!
At the beginning of the program, the Leadership team had an opportunity to share a bit about themselves, and Sister Carolyn delighted the attendees with a few jokes. Without a doubt the highlight of the day was Pat Flicker's presentation on Franciscan Community Volunteers. Donors want to know where their gifts go, how their donations matter. Pat was able to convey the purpose and value of FCV in an engaging and meaningful way. It was a gift to have former volunteers involved as well—a couple helped served and two were part of the presentation, one in person, the other via video. I know the donors were very impressed. Thank you, Pat!
Beyond the liturgy, meal and program, the success of any event here on campus is the presence of the sisters. Thank you to those sisters who were greeters and ushers and all those who made a special effort to welcome and sit with the donors during lunch. It's Franciscan hospitality and gratitude that keep people coming back. Thank you!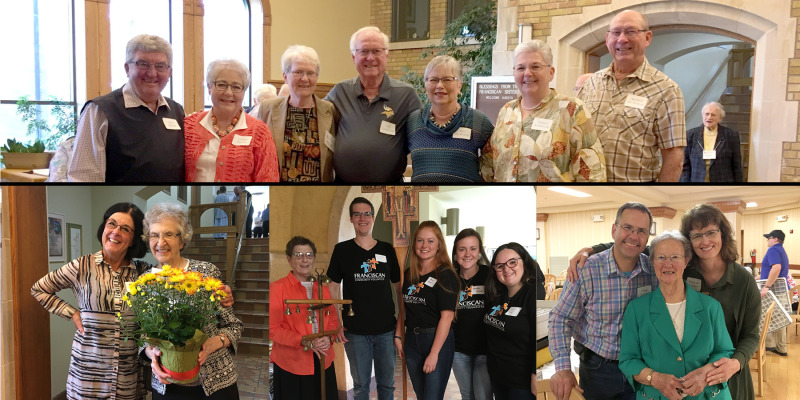 (photos by Sister Cordy Korkowski)