The Franciscan Sisters of Little Falls honored Sisters Sharon Fyle, Mary Mercita Pipp and Mary K Zirbes, who celebrated 75 years as members of the Order on Sunday, June 24. These 75 years represent decades of dedicated service to the people of God in the spirit of Saints Francis and Clare of Assisi. A Mass of Thanksgiving was celebrated for them at St. Francis Convent, Little Falls, followed by dinner and a reception for invited guests.
Sisters Sharon, Mary Mercita and Mary K entered the novitiate at St. Francis Convent on August 12, 1943, and made their final profession of vows on August 12, 1948. Together, they have seen many changes in the Church and the Franciscan Community throughout these 75 years.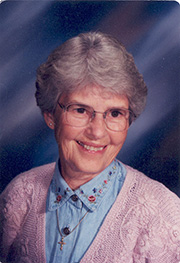 Sister Sharon Fyle
Originally from the Monticello area, Sister Sharon has ministered primarily in nursing. She has served at St. Francis Medical Center, Breckenridge; St. Michael's Hospital, Sauk Centre; St. Anthony's Hospital, Milwaukee, Wis.; St. Gabriel's Hospital, Little Falls; Our Lady of Mercy Hospital, Alexandria; Alexandria Clinic, Alexandria, for 22 years working for physicians; and several years working as a home health nurse in Alexandria. She also served as novice director at St. Francis Convent in Little Falls. At present, she is volunteering in oncology at DCH, Church of St. Mary, Habitat for Humanity and United Way Food Drop—all in Alexandria.
Sister Sharon loves her life as a nurse. That love, coupled with a positive outlook on life, helps her to enjoy the simple things in life. She loves people and is interested in their well-being. She enjoys living with her sisters with whom she has shared laughs, tears, forgiveness and friendship in many significant ways.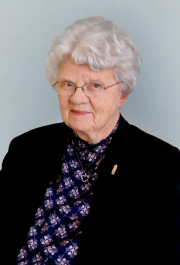 Sister Mary Mercita Pipp
Born in Draschitz, Austria, Sister Mary Mercita has contributed significantly to the health care ministry in both North and South America. She served in various positions in the nursing field at St. Francis Medical Center, Breckenridge, Minn.; St. James Hospital, Perham, Minn.; St. Ansgar's Hospital, Moorhead, Minn.; Trinity Memorial Hospital, Cudahy, Wis.; and with Project HOPE at the University Hospital, Santa Clara, in Cartagena, Colombia; and made a number of site visits to Venezuela and Central America. She also served in the administration of her religious Community as an assistant minister. Sister Mercita was employed by St. Stephen's Congregation in Milwaukee as a parish nurse and grief counselor and served on the board of INTERFAITH, the parish nurse advisory council for the Archdiocese of Milwaukee. In addition, she was a board member for the Healthier Communities Initiative for the southeastern area of Wisconsin. She was a member of the American Board of Medical Psychotherapists and also served as a Spiritual Companion for the St. Vincent de Paul Society.
Now as Sister Mary Mercita celebrates her 75th jubilee, she says, "As I look back on my life, it seems that I have been on a long journey filled with excitement, friends who cared and shared, some successes and some disappointments. It has been a journey which took me from my Austrian home to the United States of America and, by the providence of God, to the Franciscan Sisters of Little Falls, Minnesota."
Sister Mary K Zirbes
Born and raised near Sauk Centre, Sister Mary has supported people in finding their voice and taking charge of their lives. She gave major effort to the opening of Holy Spirit School in St. Cloud, the opening of the Yunguyo Mission in Peru, the development of Parish Social Ministry for the Archdiocese of St. Paul and Minneapolis, renewal of parishes in the archdiocese, renewal in her Franciscan Community of Little Falls, and lately to the Associate Movement among religious communities, in both her own and across the United States. Sister Mary is also known for her intense commitment to personal and communal growth and has been creating teams in small faith communities on racism, ecology, amnesty and peace.
Sister Mary says, "God has shown us the immense love of an expanded inclusive heart. That is what I desire. In reflection on the Gospels and in contemplative prayer, I know that 'love is the bottom line.' I believe the day will come when I will be standing eye to eye, shoulder to shoulder with billions in eternity. This life is great practice for loving them all without condition. If I have not learned to love I will have missed my calling. Nothing else really matters. I am grateful for the immeasurable love God has extended to me through my family, my friends, my work companions, my community of sisters and the splendors of creation."