The Franciscan Sisters of Little Falls honored Sister Janice Wiechman, who celebrated 50 years as a Franciscan Sister on Sunday, June 24. A Mass of Thanksgiving was celebrated at St. Francis Convent, Little Falls, followed by a dinner and reception for invited guests.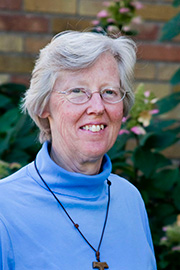 Sister Janice entered the novitiate at St. Francis Convent on June 5, 1968, and made her final profession of vows on August 15, 1974.
Originally from the St. Rosa area, Sister Janice started her ministry in teaching, first in Little Falls and then in Fargo, N. Dak. She then joined other sisters in San Felix, Venezuela, for seven years working on improving the quality of life for people in the community. After returning to the U.S., she ministered in parishes in Chicago for a number of years, also organizing community-based projects. She was then called to join the sisters in San Rafael, Mexico, founding a new mission that focuses on assisting local girls attend high school and ministering in the local parish. Sister Janice came to Minnesota for a year and a half to be on staff at Clare's Well and then returned to Mexico again, living in a number of different communities. Currently, she is back in San Rafael at the mission there.
Sister Janice reflected, "Through varied experiences on this journey, I have become very conscious that all of these days and years, and all the blessings and opportunities they have held, are pure gift of our loving God and so with a grateful heart, I celebrate."