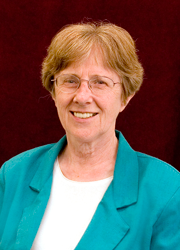 For her favorite story, Sister Betty Ann Berger offers this reflection on the life of Francis:
Saint Francis spent time in jail, about a year according to one of the sources. The son of a wealthy merchant, he was part of a rebellion against the landed nobility and the neighboring city of Perugia. He was captured by the enemy and thrown into jail in Perugia, where he became very ill. He was eventually ransomed by his father.
Despite his jail experience and his illness, Francis still had dreams of glory as a knight. After he had recovered from his illness, Francis decked himself out in magnificent equipment and set out with an Assisian nobleman to a military expedition which Francis hoped would earn him knighthood. On his way, Francis had a dream in which he was asked whether it is better to serve the Master or the servant. Francis answered, "The Master." The voice asked him why he was leaving the Master for the servant. Francis then asked what he should do and was told, "Go home." Which he did.
Back in Assisi, Francis struggled to find his way. His dreams of knighthood had been dashed, and his usual amusements in Assisi no longer satisfied him. He wandered about the area, seeking places to be alone. One day he was praying in a broken down chapel and heard Christ from the San Damiano crucifix tell him to "Go repair my church, which is falling into ruins." Francis thought he was instructed to physically rebuild neglected chapels so he set about doing so.
After begging for funds and supplies to rebuild chapels and living the life of a beggar for some time, Francis's reputation for holiness and simplicity attracted the admiration of Bernard of Quintavalle, a wealthy, wise nobleman and lawyer in Assisi. Bernard invited Francis to dinner and an overnight stay at Bernard's house. That night Bernard pretended to be asleep, and after Francis thought Bernard was asleep, Francis began to pray with great fervor and devotion, saying only, "My God and my all." Soon after, Bernard gave away all his wealth and followed Francis in his way of life.
Saint Francis has a reputation as the saint of the birdbath, but he is much more complex than that. He spent time in jail, he suffered serious illnesses, and he was considered a fool by many of his early contemporaries. Toward the end of his life, the sources indicate that Francis and his closest companion, Brother Leo, were dealing with serious temptations. One author speculates that Francis and Leo were tempted to leave the Order, which was going in a direction they did not approve.
Instead, Francis was gifted with the wounds of Christ imprinted on his body: the stigmata. In his youth, Francis gave up the pursuit of worldly glory; at the end of his life he surrendered his dreams and hope for the Order, simply saying: "My God and my all."
Francis would not pass a background check today. And the only glory he can promise his followers is that of the cross.