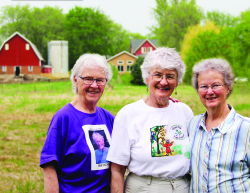 It was June 10, 1988, that Franciscans first called the century-old farm house with its 40 acres "home." It was in rural Annandale—we called it Clare's Well. Twenty seven years later, the ministry was turned over to Dan and Joan Pauly Schneider who wanted to continue the Franciscan spirit, but give the ministry their particular blessing under the name of Wellsprings Farm.
Sisters Jan Kilian, Paula Pohlmann and Carol Schmit then rented a home, still in the parish of St. Ignatius, to continue presence in the parish and community of Annandale. The main outreach became parish visiting including ministry at the local Care Center.
Now that 30-year presence has come to an end.
The rented house has been sold and Sister Paula has set up her new home in Alverna Apartments with gleanings from items passed down and accumulated over three decades.
Over the years the Franciscan presence in Annandale has been carried on, especially through the ministry of Sisters Aggie Soenneker, Carol Schmit, Mary Blase Kulzer, Roberta Zimmer, Jan Kilian, Paula Pohlmann, Karen Niedzielski, Noreen Bentfield, Joanne Klinnert, Janice Wiechman and nearly 100% of the Franciscan Sisters who served on the Clare's Well visioning circle, the many sisters who showed up to help with spring cleanup and celebrations of feast days and anniversaries. Franciscan Associates, family and friends were an integral part of the ministry from the beginning.
Now April 2018, we wish Peace and All Good to the little town of Annandale, Minn.