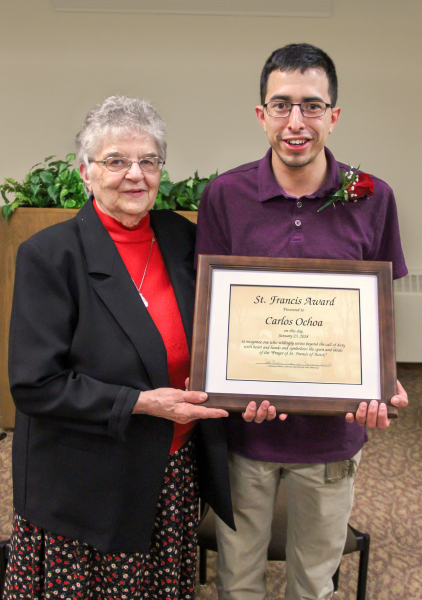 The Franciscan Sisters of Little Falls, Minnesota, hosted their annual Employee Appreciation event at St. Francis Convent on Tuesday, January 23, with many of the employees and guests present for the occasion.
The highlight of the evening was the presentation of the Saint Francis Award. The Franciscan Sisters' Values Committee sponsors this annual award, given to an employee who lives and extends the values of Saint Francis of Assisi and that of the Franciscan Sisters of Little Falls.
Amy Scholl, Human Resources director, said, "Each year the employees and sisters nominate a person who manifests our Franciscan values—respect, open communication, hospitality and compassion—as they carry out their work with us.
"The 2017 Saint Francis Award recipient is Carlos Ochoa, who began working for the Franciscan Sisters in 2011. Those who nominated Carlos described him as a person of few words but who exemplifies humble, faithful service. He quietly goes about his duties in Nutrition Services, keenly alert to the sisters who need assistance. He is a conscientious, kind and helpful person with a ready smile, always making time for others. Congratulations, Carlos!
Fourteen employees were recognized for their years of service: 35 years: Amy Scholl, Human Resources; 25 years: Robyn Gray, Music Center; 20 years: Carol Johnson, Reception; 15 years: Jane Bondley, Environmental Services; Cheryl Ethen, Nutrition Services; Julie Hanson, Community Relations; Sharon Kloss, Environmental Services; Julene Ley, Archives; Michelle Waldvogel, Health and Wellness; 10 years: Terry Bernardy, Nutrition Services; Keith Gohl, Maintenance; 5 years: Kristen Gotfredson, Health and Wellness; Mary Poser, Beauty Shop & Reception; Joan Wingert, Associates & Liturgy.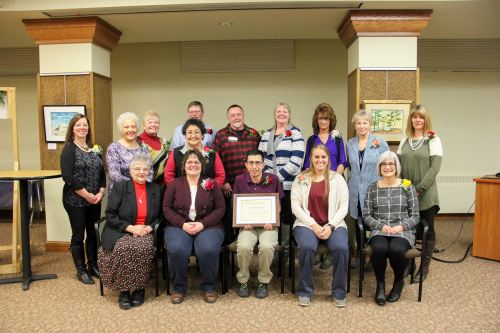 (L to R—seated): Sister Julien Dirkes, Julene Ley, Carlos Ochoa, Kristen Gotfredson, Amy Scholl;
(L to R—standing): Carol Johnson, Sharon Kloss, Joan Wingert, Jan Bondley, Keith Gohl, Terry Bernardy, Julie Hanson, Cheryl Ethen, Mary Poser, Michelle Waldvogel.