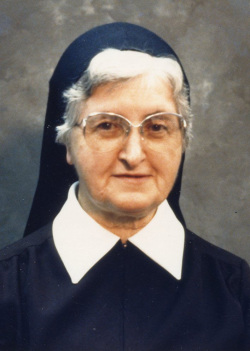 Sister Mary Joel Bieniek, OSF, celebrated her 100th birthday with an Open House for her sister community and family members from 2-4 p.m., on Thursday, August 10, at St. Francis Convent, Little Falls.
Bernice Clare Bieniek, daughter of the late Joseph and Agnes Bieniek, was born on August 10, 1917 on a farm southeast of Holdingford. She entered the religious community on September 6, 1936, was received as a Franciscan Sister on August 12, 1937 and received her religious name, Sister Mary Joel.
Sister Mary Joel was a registered dietitian, instructor and consultant. She served at St. Gabriel's Hospital and St. Gabriel's School of Nursing, Little Falls, St. Francis Hospital and St. Francis School of Nursing, Breckenridge, and St. Michael's Hospital, Sauk Centre. In 1968 the Minnesota Department of Health requested that food service workers in health care facilities be trained. An organization for food service managers (HIFSS, now ANFP) was established by two area dietitians and Sister Joel. As a consulting dietitian, she served at various nursing homes and hospitals in central Minnesota from 1967-1990, including the cities of Perham, Onamia, Long Prairie, Princeton, Pierz, Pine River, Moorhead, Walker, Park Rapids, Browerville, Clarissa, Bertha, Menahga, Little Falls and Brainerd.
From 1989 until recently, Sister Mary Joel ministered as a sacristan at St. Francis Convent, using her expertise in arranging flowers and enhancing the environment for celebration of the liturgy. She cared for plants at St. Francis Convent, flowers in the convent greenhouse and some of the flower gardens at the convent. In addition, Sister Joel served with the St. Cloud Secular Franciscans (SFO's) for 20 years. Sister Mary Joel celebrated 80 years as a Franciscan Sister of Little Falls in 2017.