Sister Mary Hroscikoski*
I imagine that you have heard of the concerns about Monarch butterflies. The numbers of these migratory butterflies have decreased dramatically since record keeping began in 1994, a decline attributed mostly to loss of their habitats in México, the United States and Canada. But did you know that they serve as just one example of a much larger phenomena?
The southernmost four counties of Texas stretch about 100 miles along the north shore of the Rio Grande River to the Gulf Coast, an enormous floodplain long ago given the misnomer of the Lower Rio Grande Valley. Since moving to the area six months ago I've learned things about it that have surprised me. Among the most surprising: this is the richest biological region in the United States as four ecoregions—forest, desert, tropics and ocean coast—converge here AND only about 5% of this unique native habitat remains. Why? Beginning in the late 19th century, large scale agricultural development cleared the land followed a century later by widespread urbanization. Native vegetation was replaced by monoculture food crops and by urban spaces filled with imported plants—trees, flowers and grasses. Wildlife that lives in native vegetation has been forced to adapt, move on or die. Enough of the imported and/or opportunist plants and animals are not the best of neighbors—they take over habitat areas, become invasive and crowding out the native species that remain.
So what are the native species to do? Sometimes they count on you and me to become aware of their plight and to protect, restore and preserve their native habitat. If enough of us turn to native landscaping and enough public lands are preserved, we can create a network of Noah's Ark-like spaces for native wildlife.
So we are slowly transforming our yard, now filled with exotic plants lovely to human eyes but that have helped create a food desert for native critters. One by one, we are putting in native plants that local insects and birds can thrive on and in turn feed the creatures that feed on them.
Back to the Monarch butterfly part of the story. This unique Lower Rio Grande Valley serves as a major migratory highway for birds and Monarch butterflies. During the breeding stages of their migration, Monarchs feed solely on milkweed. So last year we added one tropical milkweed plant to our yard as a small food and rest stop during their spring migration.
This March, after Monarchs began arriving in our area, it was a delight to find their tiny, pinhead-sized eggs on the undersides of our milkweed plant. Days later, tiny half-moon chewed out spots appeared on the leaves, left by newly hatched caterpillars after their first milkweed leaf meals. These babies are tiny—looking like thin threads less than one-fourth inch long. Because the job of caterpillars is to eat and grow, did they ever eat and grow! One day we found six caterpillars on our plant, whose flowers and leaves were rapidly disappearing. (It felt a bit like trying to feed sextuplet teenagers!)
About a week later, we were able to plant five additional small locally native milkweed plants in our yard and carefully moved the four remaining caterpillars from the denuded stalks of the original milkweed to the new ones. Then we watched the caterpillars grow and grow as they chewed through all the leaves of those milkweed plants. They were still days away from forming chrysalises and the food was again almost gone. It was a painful decision to sacrifice two caterpillars in the hopes some might live. We placed the two on our open compost pile about 40 feet away. But what a surprise to find that their hunger for food and for life was stronger than that distance! The next day they were four again on the disappearing milkweed leaves.
Then, as the food supplies ran completely out, it was time for a rescue mission. Sadly, three of the four caterpillars disappeared. It seemed they had either been eaten by birds or gone elsewhere searching for food—though there was none nearby. So one Sunday afternoon we delivered the remaining two-week old caterpillar to a nearby nature center with an abundance of milkweed, hoping and praying it would be able to eat its way to forming a chrysalis and then a mature Monarch butterfly.
In his encyclical Laudato Si, Pope Francis advises us that "There is a nobility in the duty to care for creation through little daily actions . . . [211] They benefit society, often unbeknown to us, for they call forth a goodness which, albeit unseen, inevitably tends to spread. [212] . . . I am interested in how [an ecological] spirituality can motivate us to a more passionate concern for the protection of our world. [216] We read in the Gospel that Jesus says of the birds of the air that "not one of them is forgotten before God." (Lk 12:6) How then can we possibly mistreat them or cause them harm. May the power and the light of the grace we have received also be evident in our relationship to other creatures and to the world around us. [221]
The Monarch butterfly visitors we have had this spring in Texas have reminded us of the fragile beauty of creation and our call to care well for all that God has made. We will slowly continue creating our little Noah's Ark for native creatures living here or migrating through, that they might have what they need to survive and flourish.
Now our milkweeds need a little more tending, and it is time to sow nectar-rich flowers for when the Monarchs return in the fall.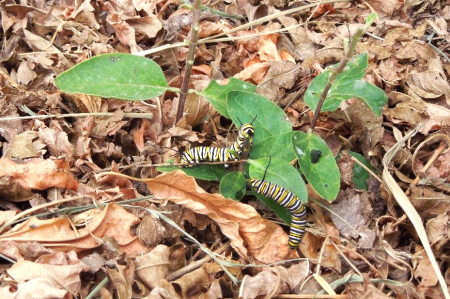 *Sister Mary Hroscikoski lives and ministers in McAllen, Tex., along with Sisters Anita Jennissen and Shirley Mueller.