We have created a mission and vision statement for our garden and nursery:
The mission: To create a spiritually inspiring garden and nursery for the public on our land in Avon, Minn., with Saint Francis of Assisi being our inspiration. The garden and nursery will be part of the Avon hills folk school.
The vision: By growing and hybridizing of Barnhaven seed strain primulas (from France), volunteers and apprentices will spend time in the garden and nursery with primulas being sold to the public to support the garden and nursery, which is to be environmentally friendly and avoid use of harmful chemicals.
We await spring for the blooming of existing woodland flowers and the primulas planted in the garden near Saint Francis's statue last May. We now plan for the planting of most of the 800 seedling Barnhaven primulas from the green house that my husband Francis built me so many years ago.
The current plants in the green house are various forms of primula polyanthus which have a variety of colors clustered on sturdy stems. There is also primulas acaulis in several colors atop single stems.
Both primula need the fallen fall leaf cover for our winters when there's no snow cover for the protection of the few evergreen leaves they keep going into winter. They bloom from the middle of April until the end of May along with other woodland flowers in my garden. Last year I planted a few other flowers there and am looking forward to seeing how well they liked their new home.
The small nursery will officially open in May of 2018, but visitors are welcome now with the realization that we are still finishing parts of the garden. Just call ahead (320-845-2235) and leave a message on the answering machine.
I leave you with this beautiful quote by H. Lincoln Foster: "God grant us simple pleasures, a quiet serenity nurtured in our soul, while we stand in the midst of the garden, among plants that were created through your love and care to grace our world."
It is my wish to make this my way of life, with the deer and God willing!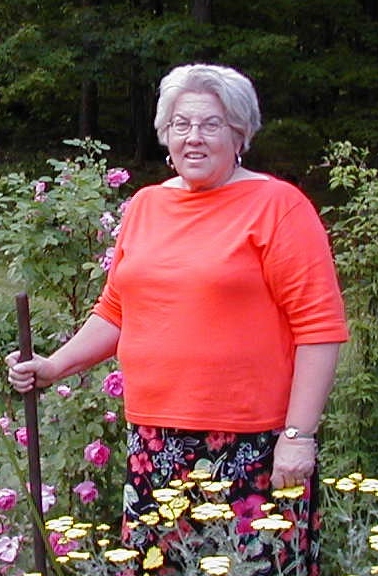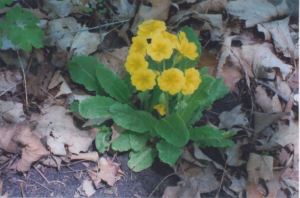 Karen Schellinger by the Primulas