On April 17 we celebrated with a simple yet meaningful meeting in Cumbayá, Quito, Ecuador. Ten associates were present, with an applicant as witness, to renew their commitment in this Franciscan Relationship.
It is customary at the start of our meetings to take some time to answer the question: "How are we?" An amazing atmosphere of trust is created by expressing one's greatest sorrows, worries or joys.
After reflecting on what it means to be a brother and sister, each person took time to say in his/her own words the reasons why
s/he wishes to continue as an active member of the Franciscan community. Nobody stepped back! How beautiful were the words and prayers! The day ended with a celebration and sharing of food.
Here are some of their testimonies:
· "I am accompanied, I am safe, I am surrounded by prayers; I trust you as I trust my family." —
AS Fabiola Albán
· "I can say that I know the Franciscan Sisters of Little Falls, Minn., and that I like being part of this community because we share the same goal, we live in service and we are based on Franciscan spirituality." —
AS Glahecer Baque
· "I am happy in my community that motivates me to continue doing what I like." —
AS Alejandrina Proaño
· "In my 26 years as a member of this community, I have received friendship and spiritual growth, and I also offer these gifts for our future: my friendship and accompaniment for everybody's spiritual growth." —
AS Iris Prieto
· "Following St. Francis's example, I live sharing with those who are most in need, and I like to listen. Thanks to my Franciscan community, I will continue like this!" —
AS Susana De la Guerra
· "I come from a town where nature is loved and in this community I intensified my love for Mother Nature. In the future I want to persevere in faith and service as a member of a great Franciscan family."
—
AS Rosa Vargas
· "I have been able to develop my spirituality, my humility and acceptance of others, thanks to the monthly meetings with the Franciscan Community in Puembo, and in that way, to extend my service in the parish. I feel confident with you." —
AS Estrella Carrera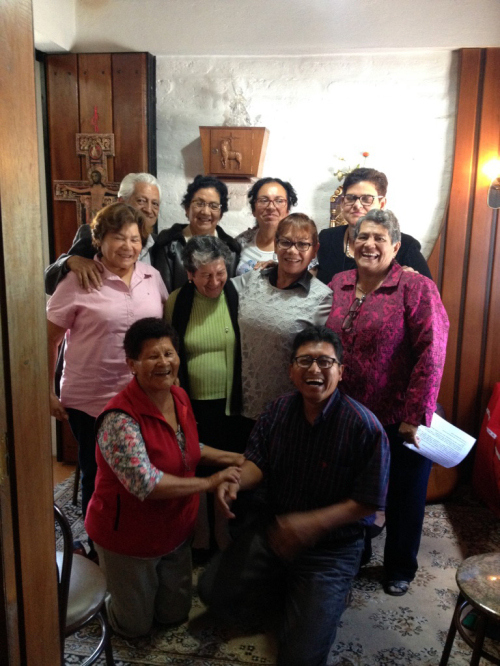 Front: AP Carmita Malucín and AS Glahecer Baque.
Center: ASs Rosa Vargas, Susana De la Guerra, Faby Albán and Fabiola Ávila.
Back: ASs Oswaldo Dávila, Alejandrino Proaño, Estrella Carrera and Iris Prieto