"The only thing necessary for the triumph of evil is that good [people] do nothing."
In mid-February I spent a week in McAllen, Tex., and surrounding communities in the Rio Grande Valley. I stayed with Franciscan Sisters Anita Jennissen, Mary Hroscikoski and Shirley Mueller. These amazing sisters are involved in ministries attending to people in need, including the Sacred Heart Humanitarian Respite Center and Saint Vincent de Paul Society among other things. The Respite Center aids people who have just been released from U.S. government detention centers. At the center, welcome and respect are given in large doses to newly arrived immigrants, along with a meal, shower, a set of clean clothes and a snack bag for their bus trip. People leave the center, usually the same day or a day or two later, to travel with bus tickets purchased by their sponsors, often family members, in order to reunite with them. Their journey toward safe haven continues though, as they begin the series of court dates to determine whether they stay or are deported. The kindness offered at the center aims to provide some restoration to both body and dignity after their dehumanizing and dangerous trips north to the U.S. and what is often a harsh and unwelcoming arrival.
The people I encountered at the center were fleeing violence and death threats in their home countries of Guatemala, El Salvador and Honduras, where I was told the rule of law has been replaced by social chaos, gangs and deep-seated corruption within the police forces and in many levels of government. One woman had witnessed a gang member kill two men as she left the grocery store; she became a target because she was in the wrong place at the wrong time. A man told me he fled with his two sons because the choices given to youth in his area were to either join the gang or be killed. Another man told me it was the very police who were extorting funds from the villagers for "protection."
The decision to make the trip north is not one made lightly. It means raising $3000 to $3500 per person to pay the "coyote" or "guide" who supposedly will get the person across both the southern and northern borders of Mexico. This, in countries where average annual income varies between $1619 (lower middle class Guatemala) to $7932 (urban El Salvador). One couple with a small child borrowed $10,000 to pay the "coyote." They were abandoned early on; returned home to borrow another $10,000 for another "coyote;" only to be abandoned a second time after crossing the Mexico/Guatemala border. Fortunately, the husband was a tradesman. He was able to find work to pay their way through Mexico after federal agents in Mexico took all the money they had left and gave them 20 days to get to the northern border and leave the country. The lives of the travelers are completely at the mercy of the "coyotes" who promise to deliver them to the border. Some people disappear, are killed, women are raped, further funds are extorted. One man told me he was one of 167 people smashed together in the back of a truck for 35 hours. There were buckets in one corner for people to relieve themselves, but the place was filthy. It was hard to hear how human beings fleeing danger are treated like so many cattle, or perhaps worse.
After crossing the northern Mexico border the immigrants are picked up by the U.S. ICE (Immigration and Customs Enforcement) agents and placed for two to three days in "La Hielera," the "Ice Box." The tales I heard described extreme cold temperatures that do not allow a person to sleep. They are stacked along the floor, sometimes family members separated and placed in different "hieleras" with only a sheet of what they described as plastic or aluminum to cover themselves. From La Hielera they are sent on to detention centers to be processed. The only sustenance they are given is one bologna sandwich at 8am and another at 8pm. The lucky ones are released with GPS systems on their ankles to take the bus ride paid for by their sponsors. They usually face a court date within a week or two, and from there the process can drag on for years. The unlucky ones: last year nearly a quarter of a million people were deported by ICE—sent back to dangerous and tenuous conditions. Executive orders issued by the new U.S. president are expected to make life even harder and more precarious for those fleeing violence in their home countries.
As we see how these orders play out we may be called upon to witness to our faith in the God who is Love in new and creative ways. Pope Francis has stated, "Indifference and silence lead to complicity whenever we stand by as people are dying of suffocation, starvation, violence and shipwreck." AS Garry Dahl put it this way: "We all seek, find and experience refuge in the One who is Being itself. We will not deny others what is given to us. So let us be sanctuary to one another!"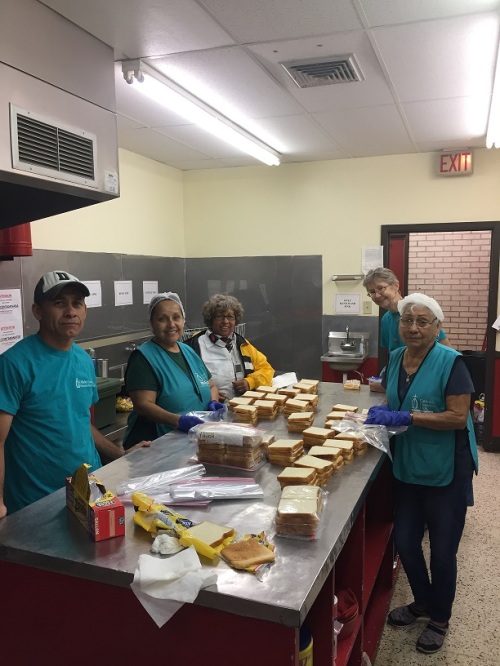 Volunteers at Respite Center. Sister Mary is second from right.