"What has been your most abundant grace in 90 years?" Our dear friend, AS Joe Krause, responds, "A life of gratuity—for 90 years." That is, endless gifts and graces from God, not earned, just given. "Take a look at that corn plant: The plant blooms, the old leaves fall and a new growth happens at the top. It's beautiful. Watching it grow through every stage is a fantastic gift of God's creation—a gratuity."
When asked, "Who do you say you are?" he answers, "I am a friend." An associate since 1978, he is certainly a friend to the Franciscan Sisters, to his wife and daughter, to the environment and the earth, to high school students…to so many.
After ordination to the priesthood, he taught college-level chemistry labs and religion for 13 years, followed by six years as a pastor. He then joined the St. Cloud missionaries in Maracay, Venezuela. Upon his return in 1977, he resigned from the priesthood and married. He and his wife wrote dioceses with Hispanic populations asking for bi-lingual ministry. Bishop John Fitzpatrick of Brownsville, Tex., responded. Led by the Spirit, both taught and then became leaders in Pax Christi/Brownsville, advocating for peace and justice.
If a Pax Christi member wanted to assist in the defense of the imprisoned in Cameron County, Tex., in hopes of eliminating the death penalty, they were invited. Thus Joe met John Allen Rubio* who, with his wife Angela Camacho, murdered their three young children. Joe began visiting and continues to communicate with John, who is condemned and still on death row. Joe's hope was to invite John, a cartoon artist, to "return to society" what he has received.
Joe and Jean's only child, Rachel, has a Ph.D. from the School of Environmental and Public Affairs and teaches at the University of Kansas. She also researches the efforts local governments and cities take to improve their sustainability for the protection of the environment. In 2016 Joe and Jean had 22 solar panels installed on their roof, and now assist other pro bono organizations in providing solar energy. Beautifying their home garden, volunteering at the Brownsville Zoo, writing letters to the editor, making public nonviolent statements and teaching about plants/environment as a volunteer for nature tours show his interests.
Joe stated that if he were Pope Francis, he would go directly to the Middle East and talk with ISIS leaders—echoing the meeting of Francis of Assisi with the Sultan.
Joe, we love you! Happy birthday, dear friend! May you know God's great love for you every day.
*The Long Shadow of Small Ghosts by Laura Tillman.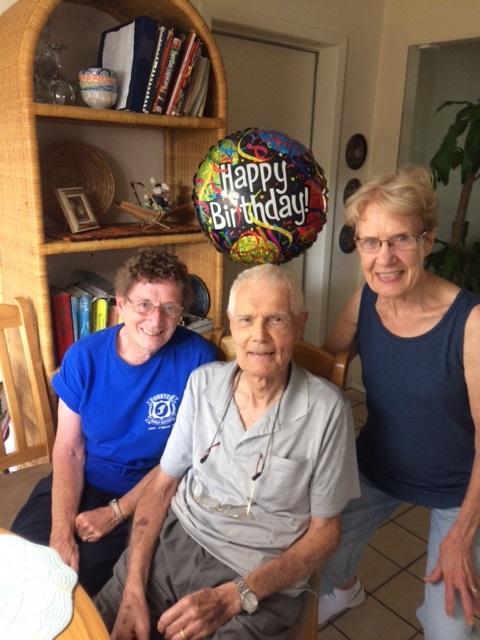 Joe & Jean Krause with S. Pat Forster (on left)