Brother Francis applied the term brother or sister to his relationship to people, nature, and even mysterious happenings in life such as death. My understanding of what it means to form this type of relationship grew when our parish, St. Gerard's, decided to enter sister parish (iglesia hermana) relationship in 2007.
Sister Pat Forster OSF, one of the founders of the mission center in San Rafael, Mexico, helped us with our initial connections and introduction. Once we determined our intentions of entering a relationship with the Parish of San Rafael, she enlisted a team of interested people there and helped orchestrate our teams' first meeting in San Rafael in the Spring 2008. Five people from our team traveled to San Rafael and met with their team of five couples and one youth. During that trip, a joint purpose statement was established for our mutual relationship. It focused on sharing faith and developing opportunities for getting to know one another. Communication became the key. There have been challenges but, fortunately, technology has lessened those challenges each year.
During our third visit, we were waiting for mass to start in San Rafael. My wife, Vicky, had a distinct emotion as she looked around church. Everywhere she looked, she recognized different families we had stayed with, ministered with, partied with or prayed with. This community was another family we belonged to. We had become brothers and sisters; no longer strangers, rather, part of the one family of God.
One of our desires is to communicate with the Parish of St. Gerard in a way that empowers them to know these people in San Rafael as "brother and sister" too. Our visits have centered around Holy Week (Semana Santa), the patronal Feast of Saint Rafael in September, their summer break and the celebrations of Our Lady of Guadalupe and Posadas. We have shared these experiences with St. Gerard's after each of our visits. We have been blessed to have Sisters Pat Forster, Isa Berrones, Aurora Tovar, Mary Dumonceaux and Carolyn Law visit at St. Gerard's over the years. One of our priests, Father Brad Baldwin, visited San Rafael while Father Toño and Father Neri, the priests from San Rafael, have visited St. Gerard's. We have focused on things we have in common, like the importance of agriculture to the State of Minnesota and the importance of agriculture and fairtrade laws for their valley. We also listen to their concerns for their children and the issues of drugs and trafficking since the Pan American Highway bisects their town. We have enjoyed incorporating the Ofrenda and the faith stories of Juan Diego and Our Lady of Guadalupe in our liturgies. We have shared prayer requests for the prayers of the faithful. And, of course, we have enjoyed some great meals of Mexican-themed food.
We are excited about the next stage in July 2017. We have been able to assist three couples from San Rafael to obtain their passports and visas: Ernesto and Gloria de La Cruz, Lalo and Yeseniah de La Cruz and Eva and Fidencio Solis. During their visit, July 22-31, they will be spending time at the motherhouse in Little Falls. We hope you, too, will take this opportunity to enter this relationship Francis calls Brother-Sister.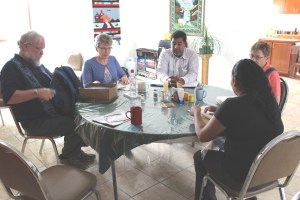 Sister parish committee members: Shawn (treasurer) & Vicky Phillips (chair) from St. Gerard's, Fidencio Solis Contreras (chair) and Gloria Hernandez Navarro (secretary) from San Rafael, Sister Pat Forster, spiritual director.