Joan Wingert, Secretary to the Associates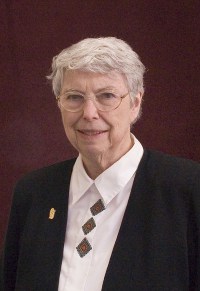 Sister Joan Tuberty chose for her favorite Franciscan story the calling of Francis and Clare.
"Both Francis and Clare were people of their times. When he knelt before the San Damiano cross and heard Jesus speak, Francis trusted that his experience was real. He trusted the message, "Rebuild my church," though its true meaning was not immediately understood.
"Clare trusted her own experience that she was being called to follow Francis's example of poverty and living the Gospel, and she did so tenaciously and absolutely, despite the strong resistance from her family. And she obtained the 'privilege of poverty' for her sisters before she died.
"Neither of them had a 'road map' for what they felt called to be and do. The blessing for Francis is that he did not have to be Franciscan! He was free to be Francis. He didn't have to measure everything against another time or template.
"Francis and Clare's example of trusting their own experience speaks strongly to me. Mine has been a meandering path. While in college, I made a retreat and had a spiritual awakening. Out of that came a desire to listen to the 'inner voice' I heard within me.
"Though I met resistance from my family, I joined the Sisters of St. Joseph, but after many years I felt it wasn't the right place for me. I didn't know any Franciscans at the time. After some years I found myself in Bloomington, Minn., staying with the Poor Clares where I came to know Sister Carla Przybilla (soon to be community minister in Little Falls) and was led here where I have been for 30-plus years.
"In later years, I helped people learn inner stillness through the practice of Centering Prayer. Even though they couldn't really name what draws them, they come to have a deep sense that 'something' is happening—to listen and to trust that.
"I had to trust my own experience and how I felt I was being led. That comes out of a deep resonance within. We have to listen and trust that one's inner movement is truly there, that it unfolds over time and that, like Francis, our original interpretation of God's message may change and grow.
"The inner voice/presence has been the most sustaining thing in my life. I believe in being faithful to the journey within the context of our own times. This journey has brought me a lot of pain AND a lot of joy.
"The example of Francis and Clare teaches us to trust in the validity of our own experience and act upon it, knowing that God is with us and guides us on our path."