My Friends —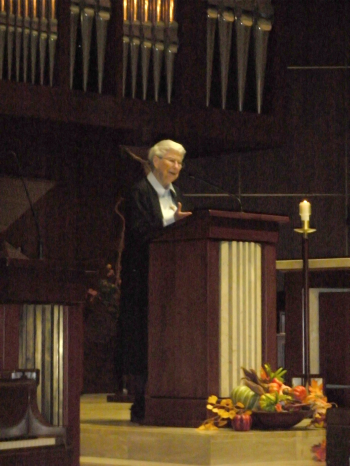 For the last 25 years, Sr. Joan Tuberty, spiritual guide, counselor and teacher, has walked the halls of St. Olaf Church with her characteristically cheerful greetings and stories of people — all of whom she calls friends —and with her adept and practiced skill of addressing the needs of others.
Fr. John Forliti, St. Olaf Pastor from 1992 - 2004, invited Sr. Joan to come to St. Olaf when he first arrived. He knew that the number of people who were homeless demanded the training of someone like her, someone who was a mental health professional. Sisters Rosanne Fox, Denis Neville and Doris Van Hout, CSJs, who led St. Olaf's Pastoral Care ministry, all knew Sr. Joan.
Sr. Joan completed a B.S. degree in psychiatric mental health nursing at the College of St. Catherine and an advanced degree in the same field at Catholic University. She also taught graduate school at the University of Minnesota for seven years. Although she chose a different commitment, she was extended tenure at the U of M, capping her years of academic experience.
Susan Sell, a League of Catholic Women member and also a member of what was called WomenSpirit, has described Sr. Joan's involvement in that most unusual, for its time, organization. She writes: "In 1997, a group of women from downtown Minneapolis churches met and created an ecumenical organization to explore and nourish women's spirituality. Sr. Joan Tuberty was among the founding mothers of WomenSpirit. St. Olaf and the League of Catholic Women co-hosted many programs over 15 years. WomenSpirit contributed much to its members, attendees and the community. Programs and events in various churches promoted interconnectedness among women of different denominations, cultures and races." The approach of WomenSpirit was described as "unique" by a local newspaper. All board members were volunteers, with rotating leadership roles. The sites of the programs and monthly meetings rotated as well. Sr. Joan reflected the spirit, joy and wisdom of a WomanSpirit member. Many women within the organization and the greater community looked to her for guidance. After months of reflection, WomenSpirit closed its books in 2012 and transferred its funds to Westminster Town Hall Forum as a donation to its Forum Speakers series.
Throughout her years at St. Olaf, Sr. Joan has been a spiritual counselor to literally hundreds of people seeking her thoughtful and consistent listening and best counsel. She led scripture studies
and Centering Prayer for many of the years she worked here. Her background attests to her own spiritual journey and contemplative hunger and, I am sure, has contributed to her ability to listen to those seeking counseling and to understand their need for solace and clarity in their own lives.
As a young woman, Sr. Joan's spiritual seeking moved her to join the Sisters of St. Joseph of Carondelet in St. Paul. She was a member of that province for 20 years. But her yearning for a life of contemplative prayer led her to the Franciscan Poor Clare Monastery in Bloomington, where she lived as a member for about six years. Ultimately, she joined the Franciscan Sisters of Little Falls, Minnesota, a group of religious women of the Third Order of St. Francis of Assisi. Their values include a life committed to prayer, living simply and being of service to others. They are especially committed to human rights and building community. These values are a reflection of the values and work we do at St. Olaf. Sr. Joan has represented those values tirelessly and has played a vital role in the work we do.
Her constant question throughout her life has been, "How does change come about for a person?" She always stepped into experiences by deliberate and considered choice. Her hunger for contemplative life has been the driving force of her choices — not only leading her to the Sisters of St. Joseph, the Franciscan Poor Clares and the Franciscan Sisters of Little Falls — but to being open to the journeys of Episcopal and Protestant women, courses at Luther Seminary and those of the Taize religious tradition. She is, as she describes herself, a pilgrim soul.
Some years ago, Sr. Joan became an occupant of Exodus Residence. This came about through some discernment she did. She went to Ireland for an extended time to discern the next step on her spiritual path. That contemplative break led her to embark on a journey that would impact her life dramatically. When she moved into Exodus Residence, residents past and present tell that Sr. Joan's presence became part of their lives. Those who live there have come to see her as a neighbor, guide, counselor and friend.
Sr. Joan's presence at St. Olaf has been marked by tremendous growth and increasing challenges in caring for people compassionately. Sr. Joan has filled that role with grace and wisdom. In the name of all who worked with Sr. Joan at St. Olaf Church, I thank her for her faithfulness to those most in need and for her many years of selfless service. I wish her well in the years ahead and pray God's blessing upon her, her Franciscan community and all those she cares about and who care for her.
Please take the opportunity to stop and visit with Sr. Joan and to wish her well after Mass on Saturday, October 22 and after all the Masses on Sunday, October 23 upstairs in Fleming Hall. She will be delighted to see you, and you will be happy that you took the time to greet her and share a memory or thank her for all she has accomplished for and given to St. Olaf over the many years of her service. Perhaps you will want to thank her for something she did for you as a guide, a counselor or as a friend.
— Father Patrick Kennedy