Sister Pat Forster began her favorite story with a quote: Interiorly enlightened and inflamed by the fire of the Holy Spirit, may we be able to follow in the footprints of our Lord Jesus Christ. (A Letter to the Entire Order, 51)
"For 13 years this text has been my focus, and our ministry—based on Franciscan values—has grown.
"In July 2003 we sent four sisters—RoseMae Rausch, Colette Toenies, Janice Wiechman and myself— to start a mission in San Rafael Galeana, Nuevo León, Mexico.
"In a short time, three girls were ready to attend the local high school and came to live with us. Since then 56 girls have graduated, having lived with us and having received Franciscan values. We currently have 16-19 students in our newly-built Casa Franciscana.
"Our students join us in prayer and Mass and we train them in evangelization, going to village after village, house after house. In Holy Week, our students and other teens are missionaries, leading services, visiting homes, sharing a specific scripture verse and asking the people what the scripture means to them.
"Some 92 handpicked teens, both men and women, participated in Alverno retreats, living silence (no phones) and simplicity (some slept on the floor). They experienced deep conversion and came home on fire, steeped in Franciscan values.
"The sisters feel all their ministry over the years has been enlightened by Francis and Clare."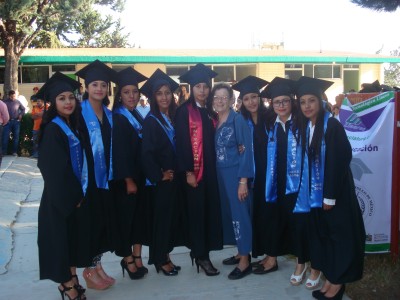 Class of 2016 with Sister Pat (fourth from right)