By Sister Jan Kilian, Guest Writer
This article first appeared in the Morrison County Record and is republished with permission. This is final article in a series of articles on the history of the Franciscan Sisters of Little Falls.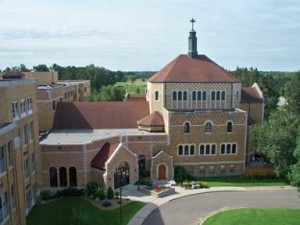 "For all that has been: thank you. For all that will be: yes." These words from Dag Hammarskjöld, help close the 125th anniversary celebration of the Franciscan Sisters of Little Falls, Minnesota.
One hundred twenty five years of what? One might say, "That Franciscan property on the southeastern end of Little Falls could have been used for industry, or an attractive river town amusement park, or whatever. Think of all the people and money something else could have brought into our local economy. Instead, here we have Franciscans, of all things. What are they worth?"
Franciscan life is characterized by acknowledging God the Creator as the source of everything that is and by a deep gratitude to God for everything people have been given. The worth of anyone or anything lies in this relationship to God. The stock market might not appreciate the hand reaching out to a poor person who comes through the convent door. Nor will investors flock to Franciscans who work in a church, or with migrants or immigrants, or as missionaries in a poor land.
Service in the name of Christ, especially to those who are underprivileged, sick, hungry for food or companionship, brings a paycheck deposited in the heart not in a bank.
Over the past 20 months, the Morrison County Record has published the history of the Franciscan Sisters. Each month this paper has allowed the Sisters to share stories of who they are and of the works God has blessed them to do.
In this, the last article in this history series, a look will be taken at the Franciscan heritage and the question asked how will the Sisters' work and message be carried forward and who will carry it? Who will continue the life of the Gospel with the core values of conversion of heart, contemplation, poverty and minority which have identified Franciscans since the life of Saint Francis himself in the 13th century? The answer: in addition to the sisters themselves, many employees, volunteers, donors, friends and Franciscan Associates are prepared to do just that. (See the Oct. 4, 2015, Morrison County Record article by Jeff Odendahl describing Franciscan Associates who now number over 300 lay women and men of all ages.) Learn more at
www.fslf.org/associaterelationship
.
The Sisters' heritage continues through Franciscan Community Volunteers. This faith-based, long-term volunteer program allows young women and men an 11-month post graduate community service experience. They live in intentional community with Franciscan Sisters for growth in Franciscan spirituality, peace and justice. They serve marginalized persons through various nonprofit organizations in the St. Cloud area. See www.fcvonline.org for more information.
The Franciscan Life Center (www.fslf.org/fran ciscanlifecenter) is located on first floor of St. Francis Convent. Directed by Rick Dietz, this forwarding-looking ministry is an expanding resource for education and growth in Franciscan spirituality. Through retreats, workshops, rituals and celebrations available to individuals, parishes and other groups, the Franciscan Life Center promotes God's work of opening hearts to commitment and love through Jesus Christ and the Holy Spirit. The Center provides a variety of spiritual directors, including sisters, lay women and men, for anyone interested in spiritual direction.
A new program, Engaging Franciscan Spirituality, is about to begin its second year. The current cohort involves 13 women and men who meet once a month to learn about Franciscan values and spirituality, history and theology. A longtime dream of Sisters Maristell Schanen and Rose Mae Rausch, the program began in September 2015. Rick Dietz and Geri Dietz (minister for Franciscan Associates) are presenters together with Sisters Michelle L'Allier and Elise Saggau.
In the May 2016 issue of The Associate, one participant, Associate Deb Galvez, expressed deep appreciation for Engaging Franciscan Spirituality. "Wow! It just doesn't get any better than this, does it? God's goodness is like a water fountain — God's blessings keep going and it doesn't end and is overflowing." This fountain will never run dry.
"For all that has been: thank you. For all that will be: yes." The sisters appreciate all who have supported them these 125 years.