AS Judy Virnig, Little Falls, Minn.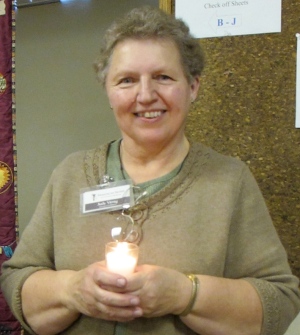 Sister Aggie Soenneker invited a group of us locals to the convent one day in 1984 or 1985 (if I recall correctly) to talk with us about becoming associates of the Franciscan Sisters of Little Falls, Minnesota. She said the concept of association with a religious order was gaining prominence in our country and abroad. She explained that associates are persons who wish to be connected with a particular sister or a particular group of sisters to get to know each other better, to pray with and for one another, to support each other in their chosen vocations and ministries…in short, to form a relationship together. Sister Aggie then asked us to think about what she had presented and to let her know if we were interested.
For me it was an easy choice: Of course, I would become an associate! These sisters were my family since 1959, when I became a boarding student at St. Francis High School. After graduating, I entered the convent here and stayed for two years, discerning a religious vocation. The day came when I knew religious life was not my calling, but I left knowing I would always find a home at the convent.
Values I have learned over the years include developing a focused prayer life, engaging in peace and social justice activities, some involvement in politics, and deep appreciation for the love of family and friends. With support and encouragement, the sisters welcomed my tentative ventures into areas that stretched me.
Working in the Associates Office for 8¼ years broadened my vision to include all of the associates connected to the sisters. What a blessing they are! Their stories and activities served as a true motivator for me. What is most meaningful is knowing all of us, sisters and associates, share a common calling: to live the gospel life. It's so refreshing to walk with people who are walking in the footprints of Francis and Clare! Being a Franciscan Associate has grown my heart in ways I couldn't have imagined 30 years ago. And I fully intend to continue this marvelous relationship as long as I am able. I am blessed indeed!
Thank you, Judy, for
being one of the first associates
and helping to shape the path for others to follow.