AS Iris Prieo, Quito, Ecuador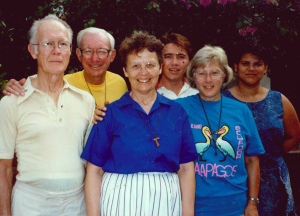 In November 1990, Fathers Thomas Maney, Gene Heerdink and two lay people from Venezuela, Luis Avendaño and myself, were welcomed as Franciscan Associates by the Franciscan Sisters of Little Falls (FSLF), represented by Sisters Joan Gerads and Rose Mae Rausch, General Minister of the FSLF.
The ceremony was held in a cottage in Chongón on the Cost of Ecuador. My husband, Glahecer Baque, made his associate commitment in 1991.
Photo Caption:
ASs Fathers Gene and Thomas, Sister Rose Mae, AS Luis Avendano, Sister Joan Gerads, Iris Prieto