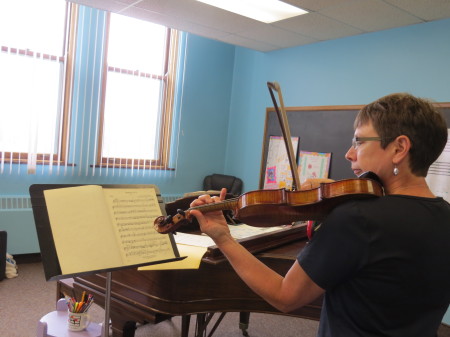 Music. It brings beauty and creativity into our world. It motivates and inspires us. It calms and excites us. It is an outlet for the expression of complex emotions. Music is a non-verbal language with the power to challenge and move us, to delight and heal us, to bring our hearts joy.
"That's why I teach music," said Bobbi French, piano and strings instructor at St. Francis Music Center. "In today's tumultuous world, we need music as much if not more than ever before. I firmly believe that engaging in the practice of music opens our eyes and hearts to love. Students of music, at any age, become more open to and aware of beauty and the ways that music contributes. That makes us better citizens of our world."
Bobbi and her husband, Hank, a retired Lutheran seminary professor and pastor, came to Little Falls three years ago after living for seven years in a rural East Central Minnesota cabin. During those years, Bobbi taught music lessons and directed musical theater in the nearby community of Askov. Then, deciding it was too rural, they pondered where to live next. On their list of criteria, Bobbi wanted the opportunity to play in an orchestra and Hank needed to be near a body of water—but they also wanted to be near their grandchildren in the Midwest. Their answer: Little Falls.
"Our motto is 'Be where you are' which means, once we choose to move on, we look to thoroughly invest in the community where we live," she said. They had no plan, no jobs. But they had faith that life would unfold as it should.
Hank was soon asked to be the interim pastor of First Lutheran Church in Little Falls and Bobbi found St. Francis Music Center and the Heartland Symphony Orchestra (HSO). "I'm able to do what I love most and do best: teach, coach, direct and play," Bobbi added.
St. Francis Music Center's vision and mission matched her values "to provide music education for anyone who wants it, no matter if they can afford it. The Music Center opens doors to people who otherwise may not have pursued the study of music. "But," she said, "music is for anyone and everyone. At St. Francis, we encourage students of any age, from the youngest beginner to the retired adult, to consider learning to sing or play an instrument."
Trained in music education, Bobbi has over 35 years of experience as a teacher and director. In addition to directing the orchestra program at St. Francis, she teaches violin, viola, and piano. Her lessons emphasize music theory, instrument technique, note-reading, sight-reading, ear training and musical expression.
"There are always some students with a natural aptitude for music who will excel and go on to make a career in music," she said. "But there are many more who can benefit from music lessons in very gratifying and important ways. Music challenges the brain. It improves eye-hand coordination. It teaches commitment, responsibility, and discipline. It develops a sense of accomplishment and feelings of self-worth. We instructors are with students for a half hour. We are teachers and we are also mentors, an additional adult figure in the lives of young students and a supportive peer in the lives of adult students. It's a chance to instill in them a love for music which can last for a lifetime."
Being in an orchestra teaches more than the notes on a page. "Each musician makes a commitment to the group and that group counts on one another to be reliable. Players learn to listen to the other 'voices' of the orchestra and to understand how their instrument blends with other instruments to create a whole much bigger than themselves."
Bobbi's connection with the Heartland Symphony Orchestra creates a partnership with the Music Center's orchestras where students are invited to join and play with professionals. "We set schedules to allow participation in both organizations, advertise mutually and have a mentorship program where principal HSO string players work directly with SFMC students. It's amazing to see what we can accomplish together, for our own sakes and for the sake of our audiences. Music matters. Music makes a difference."
St. Francis Music Center offers three orchestral options. St. Francis Preparatory Orchestra is for young students with under two years of experience; St. Francis Concert Orchestra is for more experienced players who play at the intermediate to advanced level; St. Francis Chamber Orchestra is for the most advanced high school students to perform original repertoire at the highest level. At present, 40-some players participate in the three groups. People need not be taking lessons at the Music Center to play in the orchestras. All orchestras, coached and directed by Bobbi, perform twice each year in St. Francis Convent's Sacred Heart Chapel.
Rumi, the ancient Persian poet, philosopher and theologian, is quoted on Bobbi's oft-worn pendant, "Let the beauty of what you love be what you do." She considers herself fortunate to be able to make a vocation doing just that.
St. Francis Music Center offers lessons not only for strings and piano, but for winds, brass, voice, guitar, and percussion as well. They also hold classes in beginning dance and gymnastics. The fall quarter begins on Sept. 6. To register, call 320-632-0637 or visit www.sfmusiccenter.org. Come join us!