By Sister Carolyn Law, Guest Writer
This article first appeared in the Morrison County Record and is republished with permission. This is nineteenth in a series of articles on the history of the Franciscan Sisters of Little Falls.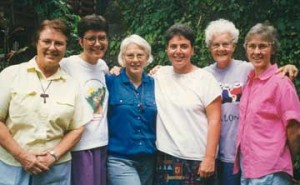 The world is small, much smaller than it used to be. We can reach almost anyone in the world instantly through satellite communications, faxing, email, Skype and texting. When the first missioners went to Peru in 1962 there was only an occasional contact by ham radio and snail mail with handwritten aerograms of one thin sheet of paper that folded up into its own envelope. Remember those?
In 1987, when I lived in San Felix, Venezuela, our neighborhood on the poor side of town was going to receive the first five telephones. We petitioned to be one of the five homes to receive one but were nowhere near the top of the list. We traveled to the other side of the city to a public phone center to be connected with folks back in the States.
When we first ministered in other countries, it was the time of the Cold War and the threat of communism. Pope John XXIII called on religious communities in the developed countries to send 10 percent of their personnel to Third World countries to help combat this threat of communism. We responded to this call and, over the decades, 46 sisters have served in a total of 15 countries. Currently we serve in Mexico and Ecuador along with our continued relationship with our 80 plus Franciscan lay associates in Nicaragua and Ecuador.
We didn't find any communists, but we sure learned a lot. We were never motivated by the fight against communism, but many of us were inspired by Maryknoll mission talks and the little magazine that many Catholic households commonly received. The Maryknoll Magazine is still a well-loved magazine that teaches us about the reality of the poor and disadvantaged around the world. In the early 1950s Sister Anita Jennissen considered joining the Maryknoll Missioners, but was assured by Sister Anastasia Ohmann, our mother superior at the time, that we would soon be having "foreign" missions, as missions in other countries were then called. Sister Anita was in the first group of missioners who went to Yungoyu, Peru, in 1962, a mission opened in collaboration with the Maryknoll Fathers in that region.
We were and are still motivated by a desire to live among the poor, to share the Gospel, and to give of what we have. Usually what we have to give is our love, our kindness and our knowledge. Sharing of our knowledge takes the form of teaching in faith formation, leadership training and the advancement of women. Whenever possible we empower local leaders to take the lead, affirming their gifts and, of course, we do it because they speak the language better than we do and get the message across effectively.
Serving in another land and among a different culture can easily be romanticized. In reality, there were many challenges: being far from home, far from support systems, extremes of heat and cold, parasites, seasons of dust or mud, at times a lot of work with meager results. Yet, people who volunteer often say that they receive more than they give and that was certainly true for the Franciscan Sisters. We went with our idealism and returned humbled by our limitations, humbled by the joy and generosity that was given to us, and humbled by their everyday struggle for daily bread. We learned about other cultures. We learned another language. We learned to see our own country from another perspective — grateful for our abundance but always living with the tension about how to live more simply that others may live more justly. In turn, our lives were changed forever and our community enriched. Our world view was broadened. Our world became smaller as we experienced our oneness with our sisters and brothers around the world.