Libraries exist to make books available, at no cost, for borrowers to read, enjoy and return for others to repeat the learning cycle. Now borrowers can check out flower and vegetable seeds, grow produce and harvest seeds to return to the library for others to repeat the growing cycle.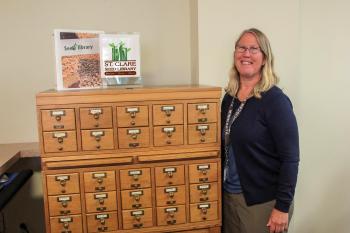 Elise Carey, library coordinator for St. Clare Library at the St. Francis Convent, Little Falls, grew the idea from a conversation about how some families face food scarcity, how eco-systems can be improved by plants that welcome pollinators such as butterflies and bees and how home-grown food simply tastes best.
She moved to Minnesota in June 2015 after serving for 23 years as a missionary in various countries, most recently in Latvia, with the organization Youth with a Mission. Her hobbies include cooking, hiking, kayaking, reading and, of course, gardening. "Potatoes in Latvia and potatoes in the States taste vastly different," she said. "I think we lack varieties of plants that were once our food sources."
Seeds circulated at lending libraries are usually regionally adapted and heirloom varieties. "The purpose for our seed library is to provide an alternative to genetically modified seed, increase biodiversity and plant resilience," Carey said. "It also encourages food literacy and education, increases knowledge of gardening and horticulture, helps with sustainability and promotes healthy living and eating."
Always a teacher, she said, "If children don't like vegetables, help them to plant a few seeds, preferably cherry tomatoes and peas. Plant the seeds, water tenderly, watch the growth, notice the color changes and eventually eat the produce. The child will see vegetables in a whole new light."
As followers of Saints Francis and Clare of Assisi, the Franciscan Sisters and Associates are committed to caring for the environment, Mother Earth and all of creation. Franciscans strive for simplicity and sustainability in every aspect of their lives. "Creating a seed library mirrors these Franciscan values," Carey added.
She offered a gardener's joke that fits the mood of the seed library: "Give a man a fish and he will eat for a day. Teach a man to garden and the whole neighborhood has tomatoes." The seed library is just that. Borrow. Grow. Share.
"As caretakers of seeds, we cooperate with nature in carrying on priceless genetic material for future generations. Seeds are a sacred trust passed down to us by our ancestors. The seed library helps us to honor that gift," she said. "By growing a plant from seed, eating its fruit and returning it back to seed, we become fully engaged in the rhythm of nature and grow more attuned to the world around us."
If someone wants to contribute seeds from the garden, or perhaps some from a family's heritage, Carey will be delighted to receive them. The only seeds not accepted will be hybrid seeds which change in composition after the first year's growth.
St. Clare Library is open to the public Tuesday through Thursday, from 9 a.m. - 3 p.m., for books and seeds.
Those who work with their hands are laborers.
Those who work with their hands and head are crafters.
Those who work with their hands, head and heart are artists.
-Saint Francis of Assisi