By Sister Jan Kiloian, Guest Writer
This article first appeared in the Morrison County Record and is republished with permission. This is eighteenth in a series of articles on the history of the Franciscan Sisters of Little Falls.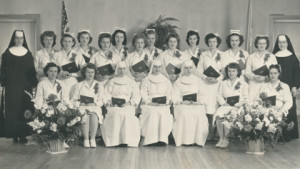 St. Gabriel's School of Nursing, Class of 1947 front row (from left): Georgine Roethler, Rita Kuefler, Sisters Vianney Weier, Thomas Weyandt and Evangeline Stanoch. Back row: Sister Lenore Weier, Irma Hagedorn, Mary Agnes Freese, Mary Ann Steffes, Sybil Schlicht, Mary Schultz, Josephine Haiden, Wanda Kirchev, Patricia Hills, La Vonne Valker, Minnie Goll, Dorothy Huander, Marie Drahos and Sister Caroline Torborg. Photo courtesy of the Franciscan Sisters archives.
St. Gabriel's Hospital admitted its first patient in 1892, in the original convent building of the
Franciscan Sisters. A need for more nurses arose when a new and separate hospital was built in
1916, to accommodate more patients. To meet this need, St. Gabriel's opened a School of Nursing
also in 1916, 100 years ago.
Mrs. Regina Holst of Little Falls was the first director from 1916-1918. Holst was followed by Sister Bernadette Trettel, under whom the first class graduated in September 1919. The newly-graduated nurses to whom Sister Bernadettepresented the class pins and administered the Florence Nightingale pledge were Sister Anselma Billig, Rose Bach, Agnes Warnert, Frances Vertin and Rose Hurrle.
The following are some doctors who participated in giving lectures in the early years of the school:
J.B. Holst – obstetrics and gynecology; O.J. Brown – pediatrics; G.M.A. Fortier – anatomy and
physiology; E.L. Fortier – bacteriology and urinalysis; D.F. Holst – fractures, dislocations, bandaging
and skin diseases; J.G. Millspaugh – materia medica, physics and chemistry, dietetics and metabolism; L.M. Roberts – eye, ear, nose and throat, and venereal diseases. The Rev. Charles Grunewald taught
nursing ethics. As sisters and lay women were educated, more of them were added to the faculty
but the medical staff was always supportive.
The students (and all staff) were expected to hold doctors in high regard. Doctors were addressed as "Doctor" and their orders were to be followed exactly. Sister Paula Pohlmann remembers when a doctor approached a nursing station, nurses stood up. Nurses accompanied them when doctors made rounds to see patients, and the nurse carried the patient's medical chart for the doctor. (Perhaps people remember: "What is the difference between a nurse and a nun? A nun only serves one God.") However, the nursing school could not have succeeded without the doctors or the God the doctors also served.
Over the years, graduates have held reunions; co-chairs of these events include many Little Falls nurses: Dolores (Dee) Hanowski, Carolyn Maurer, Helen Maurer, Margaret Johnson, Erna Schmidtbauer, Marie Meschke, Cecelia Nieman, Rosemary Wachlarowicz, Doris Batzer and Dolores Knopik. Marie Randall was in charge of OB for some time, and Alice Olson was head nurse on the medical floor.
Many of these women, trained by the sisters, are active members of the Little Falls community. Lisa Hanowski is now in charge of Home Care for Catholic Health Initiatives. Alice Piotrowski from Little Falls graduated from another of the sisters' Schools of Nursing, St. Francis, in Breckenridge.
Many sister graduates are also familiar to Little Falls area residents, including Sister Joan Gerads. It was Sister Joan who started the Home Care program. Another was Sister Bernarda Sanoski who taught obstetrics and labor and delivery. Sister Vianney Weier was in charge of the operating room and, as was the case with other hospital sisters, she couldn't always be with the sisters for scheduled prayer times.
Some of the tasks of the OR nurse included making up packs of surgical instruments and sterilizing them for re-use. Once a sister student assigned to Sister Vianney began to leave in the middle of a busy time. When Sister Vianney asked her where she was going, she answered, "To prayer." She had to learn that hospital sisters not only missed sleep to be on call at night, but also missed sleep to make up prayer time at night.
St. Gabriel's School of Nursing closed during the Depression years, 1934-1942, due to lack of patients. It re-opened during World War II and in 1943, became a member of the U.S. Cadet Nurse Corps with an accelerated program to train nurses for the military.
In 1956, the cornerstone was laid for St. Joseph's Hall, a new residence for student nurses, now part of Unity Family Healthcare. The students previously lived at the original convent and moved to their own housing May 1, 1957. The school continued to flourish until four-year registered nursing (RN) programs became the norm. The three-year diploma programs were gradually eased out, and St. Gabriel's School of Nursing closed for good in 1970.
St. Gabriel's graduated a total of 602 registered nurses between the years 1916 – 1970. These nurses were highly respected as quality nurses then — and still are today. The three-year RN program provided excellent hands-on patient care experiences and supervision by clinical instructors as well as by medical staff doctors.
The school included six-month affiliations with hospitals in Duluth and Rochester to provide experience such as orthopedic and psychiatric nursing not readily available at St. Gabriel's. Students were well prepared for state board examinations and licensure.
"To be a nurse is to walk with God along the path that our Master trod." And so the Franciscan Sister nurses and all continue to walk.