The Franciscan Sisters of Little Falls honored Sisters Noreen Bentfield, Rita Kraemer, Karen Niedzielski, Mary Maurita Niedzielski, Kay Watts, Beverly Weidner and Janice Welle who celebrated 60 years as Franciscan Sisters on Sunday, July 31, 2016. A Mass of Thanksgiving was celebrated at St. Francis Convent, Little Falls, followed by a dinner and reception for invited guests. The sisters entered the novitiate at St. Francis Convent on July 31, 1957, and made their final profession of vows between 1961 and 1963.
For more photos of this event >>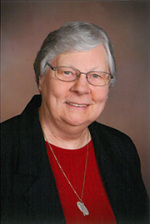 Sister Noreen Bentfield

Originally from Sauk Centre, Sister Noreen has mostly ministered in the healthcare field, first as an office worker, then as a nurses' aide, then as a staff nurse, a mental health nurse, a health educator and a nurse practitioner/manager. These roles were performed in a number of locations in Minnesota, Wisconsin, Kentucky and Texas in the United States; and Tanzania and Cameroon in Africa. After returning to the United States from Africa, Sister Noreen ministered as a family support worker in a safe home for abused women and children, a nurse practitioner in a homeopathic medical clinic, a support staff member at Sabbath House, and as a Faith Community Nurse/Pastoral Minister, all in locations throughout Minnesota.
Sister Noreen has reflected, "This ministry has brought me full circle, from birthing babies in Tanzania to walking with many of our elders as they transition to eternal life. Each step of my journey has been a mystery, but one thing I know for certain: 'All is a gift from a loving God.'"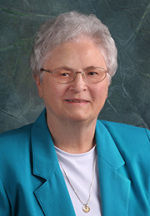 Sister Rita Kraemer
Born in St. Paul and growing up in Melrose, Sister Rita's ministry focus has been in business/finance and long-term care administration. She has served in various locations throughout Minnesota and Wisconsin. Her roles have included: office manager, accountant, long term care CEO, FSLF treasurer, Community Board member, project coordinator and director of Health Planning & Services. She has also been a governing board member of St. Otto's Home and St. Gabriel's Hospital in Little Falls, Minn.; Trinity Memorial Hospital in Cudahy, Wis.; CEO of Franciscan Villa, South Milwaukee, Wis.; FSLF representative in Catholic Health Initiatives, Inc.; and member of the finance committee of the St. Cloud Diocese. She has been a key member of many committees involving senior health care, future planning and financial stability. Sister Rita's ministry with the elderly also led her to becoming both a senior care and planning consultant with the National Religious Retirement Office (Washington, D.C.) from 2001- present. She has found both roles of evaluating and assisting other religious communities in their senior care and overall planning both challenging and gratifying.
Becoming a "senior" herself seems, at times, in the distant future. At other times she feels, "all that my life has held has to have been part of 'a lot of years.'" She is most grateful for God's providence in her life and for her community, family and friends being a supportive and integral part of her life.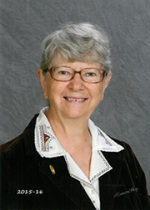 Sister Karen Niedzielski
A native of Gilman, Sister Karen has spent most of her years in religious life as an elementary school teacher. She taught in elementary schools in St. Cloud, Alexandria and Elk River, Minn.; and in Milwaukee and Wawautosa, Wis. She has also ventured farther abroad, teaching elementary students in Matthias' Infant School in Bristol, England; teaching English and Scripture at Chanjale Leadership Center in Tanzania; and going to Ukraine for two summers to help establish a library. Presently, she is the librarian at St. Katharine Drexel School in St. Cloud, Minn.
In looking back through her 60 years as a religious sister, Sister Karen has many happy memories and good experiences. She has felt the good influence of many of her sisters in community. She believes that every sister that she has lived with has gifted her in some way. She treasures them and God's faithfulness and love for her in giving her such a good life.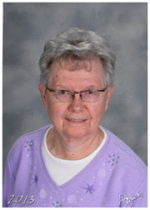 Sister Mary Maurita Niedzielski
Also a native of Gilman, Sister Maurita's ministry has mostly been in the health field, first as a nurse's aide, then as a licensed practical nurse and later as a pastoral minister. She ministered to the young at the St. Cloud Children's Home and to the elderly at St. Otto's Care Center, Little Falls; St. Francis Home and Hospital, Breckenridge; and St. Ansgar's Hospital, Moorhead. From there, she served in Lexington, Miss., and Fargo, N. Dak. Sister Maurita then returned to Little Falls to minister to the spiritual needs of the elderly and ill Franciscan Sisters. More recently, she has been a spiritual assistant to the Secular Franciscans and is currently a foster grandparent volunteer working at a daycare in Waite Park caring for babies and toddlers. After spending the past several years ministering to the elderly, she now enjoys watching the children grow and develop, loving and comforting them when they cry.
Sister Maurita said, "Over the years I've come to value the opportunities for personal growth, the moments of insight, of knowing that all that happens to me is part of God's plan in which He calls me to greater conversion and to more generous service. I have come to realize that living a religious life is all about intentionally desiring a relationship with God and deepening that relationship by being faithful to daily prayer, both communal and personal, and being generous in sharing God's tremendous love through ministry. I value the close relationships that living a community life fosters. The coming together as a total community for celebrations and worship has always been meaningful. I am deeply grateful to God for the many blessings and graces that have been mine."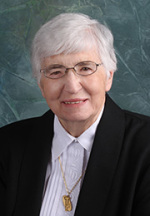 Sister Kay Watts
Originally from Hopkins, Sister Kay has served others during her religious life through the domestic art of food service. Of all her varied ministries, there are three that she feels were very special. Her years at the St. Cloud Children's Home were so enriching because she met some very needy children who wanted to change their lives. It brought her joy to see them leaving as mature and confident young adults. The 14 years she served as manager of the kitchen at the Franciscan Retreat House in Prior Lake left Sister Kay with many great memories of the good times she had with the friars and the preaching staff. Her volunteer years at the Catholic Charities Food Shelf were very rewarding as she was able to help clients who needed clothing and household items.
Sister Kay stated, "These 60 years of religious life have flown by so fast. This has been a very good life for me in getting to know our sisters, time for prayer and the special gatherings of all of us together. I look back in gratitude for all that has been, and look forward with peaceful hope for all that will be. Thank you, God, for all you have done in my life."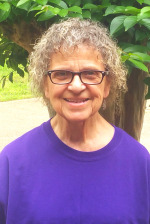 Sister Beverly Weidner
Born in Regal, Sister Bev ministered in the health care field for most of her first 50 years, in hospitals in Minnesota (Mercy Hospital in Onamia was her most favorite of all) and Wisconsin, and then in rural health clinics, public school nursing and home health care in Mississippi. Sister Bev was licensed as a foster mom for "medically fragile" infants. She said, "It's been a wonderful, gifted experience to see creative little minds, healing bodies and loving, generous, joy-filled hearts, as well as mischievous and challenging little spirits, grow." At the same time, having had first-hand experience, Sister Bev addressed the weaknesses and failures of the foster care system at the county and state levels. Sister Bev has had the privilege of caring for 17 babies and was given legal custody of three children.
Currently, Sister Bev does a lot of driving back and forth to school, takes people to their doctor visits, babysits on occasion, enjoys making friends and providing food (usually with one of her children) for people who are homeless and living in Smith Park in downtown Jackson, Miss.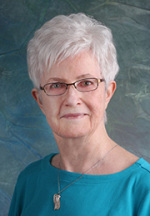 Sister Janice Welle
Originally from Sauk Centre, Sister Janice has ministered as a catechist, teacher, pastoral associate, liturgical and religious education coordinator, community life coordinator and volunteer coordinator in locations around Minnesota and Colorado. She was also led to advocating justice. Promotion of NETWORK's values through letter-writing, sharing her facilitating talents with the Commission on Women and planning the yearly "Gather the Women" event with a committee helped to develop a greater consciousness for equality with all people, especially with the oppressed. More recently, she served as director of Community Relations and manager of the Franciscan Gift Shop at FSLF.
Sister Janice shared, "Recognition and promotion of talents/gifts among Franciscan Sisters and Associates through managing a gift shop are present expressions of my new dimension of spirituality. I am also waking up to the oneness of all creation, similar to the unity Clare and Francis of Assisi experienced and expressed. Yes, there is just one people, one Kin-dom, one center in which all are ONE."