The Franciscan Sisters of Little Falls honored Sisters Patrice Kiefer and Mary Amy Schreiner who celebrate 75 years as members of the Order on Sunday, June 12, 2016. These 75 years represent many years of dedicated service to the people of God in the spirit of Saints Francis and Clare of Assisi. A Mass of Thanksgiving was celebrated for them at St. Francis Convent, Little Falls, followed by dinner and a reception for invited guests.
Sisters Pat and Mary Amy entered the novitiate at St. Francis Convent on August 12, 1941, and made their final profession of vows on August 12, 1946. Together, they have seen many changes in the Church and the Franciscan Community throughout these 75 years.
Sister Patrice Kiefer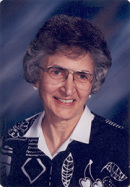 Originally from the Cayuga, N.Dak., area, Sister Patrice has ministered primarily in healthcare administration. She served at the St. Cloud Children's Home, St. Anthony's Hospital in Milwaukee and Our Lady of Mercy Hospital in Alexandria, which later became the Douglas County Hospital.
As she looks back on her call to religious life 75 years ago, she said, "With the gift of each day comes the call to respond during the day to the needs of others." She is reminded of a Franciscan statement by which she has tried to live her life: "The spirit of woman is made to be a 'living listen,' one who hears and lives out her answer." She listens to the inner call and responds. "If peace came with my response, I knew it was the right decision."
Sister Mary Amy Schreiner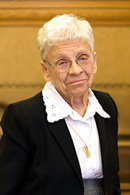 Born in Detroit Lakes, Sister Mary Amy has ministered as an elementary school teacher within the St. Cloud Diocese and the Archdiocese of St. Paul/Minneapolis. She also taught religious education in parishes and served as an associate chaplain in healthcare facilities.
"In celebrating my 75 years of religious life," she said, "I give thanks for the marvelous ways in which God has led me to respond to the Holy Spirit through my parents, wise teachers and loving sisters with whom I lived and worked these many years. I have no doubt that I can trust in God who loves me so unconditionally."