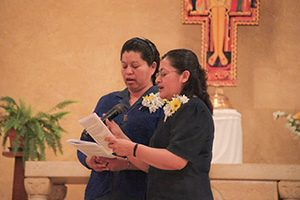 Sisters Maria Isabel (Isa) Berrones Morales and Aurora Catalina Tovar Rodriguez will take final vows as Franciscan Sisters of Little Falls, Minnesota, on Friday, May 27, during a celebration Mass at St. Francis Convent.
Nine years ago, both women became acquainted with Franciscan Sisters in Nuevo Leon, Mexico, when they worked at the Franciscan Missionary Center in San Rafael. Sister Pat Forster, who ministers there, said, "These two beautiful Mexican women are committed deeply to our loving God. They are committed to the poor and to being and doing what others are not free to be and do."
"They bring an authentic Franciscan spirit, a joy, maturity and the wisdom needed to contemplate anew their daily call and our call in a multi-cultural, global world," Sister Pat added.
Sister Isa grew up in Gomez Farias, Tamaulipas, Mexico. "I chose to be a Franciscan Sister of Little Falls because of an attraction to the charism of Saint Francis of Assisi," she said. "I like the form of life of the sisters and their commitment to the living the Gospel, serving the poor and working for peace, justice and ecology."
As a volunteer at Catholic Charities, Sister Isa has the opportunity to serve people with different kinds of needs and work with other people who are very committed to serve the most vulnerable of our society. With a degree in social work and human development, she said, "My gifts are to serve the people in the best way I can. It's a challenge to help people from another culture manage life in a new place and in a new way. Being a Franciscan Sister and having a degree are privileges, but privileges to serve. As a social worker I am committed to the promotion of the human person, their well-being and their full development. As a Franciscan Sister I have the mission to live the Gospel and serving Christ in the poor, the favorite of the Kingdom of God."
Sister Aurora, from the desert farming community of Mezquite in Nuevo Leon, said, "When I accompanied the sisters visiting the families in different villages, I observed their work and commitment to the most needy. They freely shared God's love, like Saint Francis of Assisi."
She added, "Saint Francis taught not just about evangelization but about people's well-being. He established relationships with the people through his words and actions." Now, as a volunteer with the Diocese of St. Cloud, she builds relationships with the Latino people in Cold Spring, Long Prairie, Melrose, Morris, Pelican Rapids and Rockville. With a degree in educational psychology, "I teach them how to care for themselves as well as grow in their spiritual life. I teach them but I learn much more from them about faith and relationships."
Sisters Isa and Aurora, excited and delighted, they agreed, "Our hearts are full of love and gratitude."