This article first appeared in the Morrison County Record and is republished with permission. This is sixteenth in a series of articles on the history of the Franciscan Sisters of Little Falls.
Since the 1960s, the Franciscan Sisters have worked with migrant farmworkers, starting with migrant families who came to the hospitals they owned and staffed.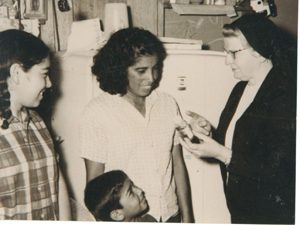 Families, mainly from Texas, traveled north to the Red River Valley to work in the beet fields. They lived in abandoned farm houses, converted sheds or sometimes trailers provided by the landowner.
In addition to health care, there was a very natural response on the part of the sisters to attend to the other needs of the people in their midst. Sister Teresita Sobiech gathered and distributed used clothing in Breckenridge; Sister Pat Forster facilitated a dental clinic for migrant children when she worked in Moorhead.
Sisters who were teachers spent their summers ministering in migrant camps preparing the children for the sacraments.
In 1968, the Conference of Major Superiors of Women called for religious communities to start health care clinics for migrant workers. Mother Yvonne Becker responded by sending Sister Antonette Ahles to join the East Coast Migrant Health Organization.
As a public health nurse, she worked with migrants along the East Coast, Texas and Minnesota. She was a member of the National Migrant Workers Council, serving as secretary from 1991-1992. Motivated by her religious calling, she said, "I believe that the mission to migrants is an apostolate worthy of consideration by those whose Rule of Life begins, 'To observe the Holy Gospel of Our Lord Christ …'"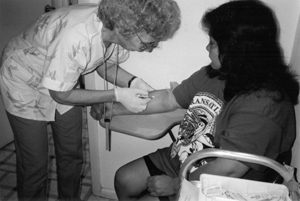 Sisters returning from international missions joined these national efforts as they wished to continue to use their language and multi-cultural skills. Outreach to migrants and immigrants spanned throughout the nation as sisters established new ministries along the Rio Grande in Texas, and farther west into border communities in Arizona and New Mexico. Following are a few examples.
In addition to Sister Antonette, Sister Donna Zetah also began her ministry to migrants with the East Coast Migrant Health Organization. Living as a migrant herself, she followed the families as they moved. She began in 1983 in New Jersey in a clinic serving Puerto Rican workers in the flower industry. After one season, she moved to Florida to serve workers in the fruit industry. In 1985, she joined the Midwest Migrant Organization and followed the Hispanic farmworkers from southern states up to Michigan. Sister Donna was part of a new effort to train migrant women farmworkers in leadership. Capable women were selected to be camp health leaders and, based on performance, received stipends for their work.
From 1991-1997, Sister Adela Gross served as coordinator of pastoral care for People on the Move, a program of the U.S. Bishop's Conference in Washington, D.C. She sees the migrant population "as an invisible army that moves across the country without anyone knowing about it."
She returned to Minnesota and served as part-time coordinator of multicultural ministries for the St. Cloud Diocese from 1998–2007, and also ministered in various parishes with the Hispanic communities. Though retired, she maintains a strong relationship with the community in Brooten which sees a large population of migrants each year.
Today, Sister Audrey Jean Loher works with Humane Borders in Tucson, Ariz., which provides drinking water and other basic aid to migrants. Sisters Anita Jennissen and Shirley Mueller in McAllen, Texas, assist and offer hospitality to mainly Central American women and children who arrive daily, escaping drug violence and poverty in their own countries.
Ministry to migrants and to the broader Hispanic population in the St. Cloud Diocese is ongoing. Sister Carol Virnig founded Centro Hispano at St. Joseph's Church in Waite Park in 2002 to welcome and respond to the needs of Latino families moving to the St. Cloud area.
Sister Aurora Tovar, a native of Mexico, reaches out to families in Pelican Rapids, Long Prairie, Melrose, Cold Spring, Rockville, Albany, Upsala and Morris. As Franciscan Sisters are accustomed to do, she visits families in their homes, listens and becomes part of their family life.
Sister Aurora says: "Saint Francis taught that evangelization was not just to teach about the theology of our faith. He went out and asked the people about their well-being, looking to establish a relationship."
In an increasingly multicultural world, the Franciscan Sisters will continue to offer their gifts to develop relationships of love, respect and friendship wherever their ministries might take them.