By Jeff Odendahl, Guest Writer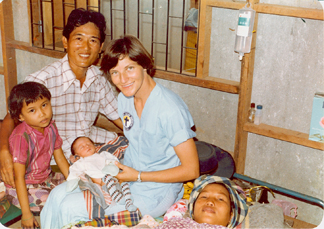 This article first appeared in the Morrison County Record and is republished with permission. This is fifteenth in a series of articles on the history of the Franciscan Sisters of Little Falls.
Catholic Social Teaching reminds us of our duty to give a generous welcome to those who come to us seeking relief from persecution. From their earliest days the Franciscan Sisters of Little Falls reached out to persons in need, serving not only orphans, the sick and the elderly, but refugees as well. During the late 1940s, World War II had ended, but many people in Eastern Europe were homeless. Refugees began coming to the United States, and the Franciscan Sisters were among their first sponsors, receiving folks being resettled from Germany, Poland, Yugoslavia, Czechoslovakia and Ukraine.
Many of these people lived and worked in Little Falls for a while, then moved on. Others did not. One of the happier stories is that of Betty and Joseph Pietrzykowski, who arrived in 1949. Betty and her German family were in a camp for displaced persons when she met Joseph, a Pole who had escaped from the Russians. When they first came to Little Falls, Betty spoke only German, and felt terribly lonely. She was befriended by the sisters, and Sister Rachel Zenzen in particular. Both Betty and Joseph found work in the local community, with Betty eventually working many years at St. Gabriel's Hospital.
By the mid-1970s, the Viet Nam War had wound down, but the horror in Southeast Asia wasn't over. Pol Pot had gained control in Cambodia, and about one-fourth of that country's population had been murdered. Many others were destitute, and refugees were still flocking to neighboring Thailand. Sisters Grace Skwira and Joan Gerads were two Franciscan Sisters who reported for duty in the refugee camps there. Sister Grace remembers the people arriving in the camp—they were starving, sick and traumatized.
Tomas Ochoa and Sister Grace Skwira. In 1989 Tomas came to Little Falls from El Salvador as a refugee. The sisters provided housing, a job at St. Francis Convent and help with acclimating to a new culture. With assistance from Sister Grace, Sister Adela Gross and others, he became a U.S. citizen in 2008.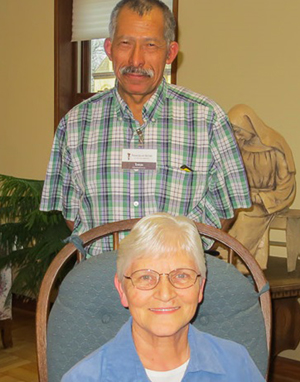 During her orientation, the first group of refugees arrived. The camp was still being set up, and housing and other facilities weren't yet available. Still, a young woman was giving birth, and Sister Grace was there to assist her. This was the beginning of her work in maternal health and pre-natal screening, but much of what she witnessed was deeply disturbing. People spoke of living on watered-down rice, often mixed with gravel. One man, a doctor, had been sent from the city to the countryside and forced to pull a plow like a beast of burden. Refugees drew pictures describing their experiences—one was of a woman tied to a tree while soldiers threw her child in the air and shot it.
While Sister Grace was aiding war-time refugees in Thailand, another group of refugees made its way to Little Falls. Sister Anita Jennissen had been working with Cuban refugees at Camp McCoy in Wisconsin. Through Sister Anita, Clemente Ramirez, his wife, and three others came to live and work at St. Francis Convent in 1980. Like others who have come to live with the sisters, they were quickly enveloped in the life of the Convent. Sister Mary Christine Wiener began English lessons immediately. Jobs and/or school were lined up. While most of these folks moved on, Clemente continued to work at St. Francis Convent until his retirement in 1995.
The 1980s was a particularly turbulent era for several Central American countries. The era saw refugees from El Salvador, Guatemala, Nicaragua, Colombia, Honduras, Liberia and Ethiopia seek assistance from the sisters. No one was turned away. During a brutal civil war in El Salvador, young men, in particular, had little choice—pick a side, the army or the rebels—and participate in the killing, or be killed yourself. Many chose to leave, making the perilous trip north. One who made this journey, Tomas Ochoa, found a supporting community in the sisters and Little Falls. Eventually, he became a U. S. citizen, and continues to work at St. Francis Convent.
An era of violence struck Somalia and much of eastern Africa in the 1990s. Shortly after, some of the many displaced people from that area began arriving in central Minnesota. Returning from over 15 years in Africa, Sister Tonie Rausch was seeking that same exuberant spirit she had witnessed in her many years serving abroad. She and Brianda Cediel founded Hands Across the World, a nonprofit school teaching English as a second language to refugees and immigrants. The program became a haven for Somalian and other refugees, a place to improve language skills, but also a place to hone basic living skills and learn greater self-sufficiency. Of this experience, Sister Tonie says, "This is where I continue to work for justice and peace, offering opportunities for marginalized to integrate in American culture and become active citizens."
Despite the passage of time, today we face a global refugee crisis. More than 60 million people are displaced from their homes, more than at any time since World War II. Some 20 million of the displaced are refugees. Refugee resettlement is a last resort, only considered for the most vulnerable refugees who cannot safely return home. Refugees resettled in the United States successfully support their families, pay taxes and contribute to their new communities. They work in industries ranging from hospitality, food service, teaching, engineering, nursing and medicine, and many start their own businesses.
What is next for our Franciscan Sisters? The sisters may be a smaller group now, but they are still eager to stand with and support people struggling to live so far from home. The words heard from several of the sisters are, "Let's help now, while we still can."