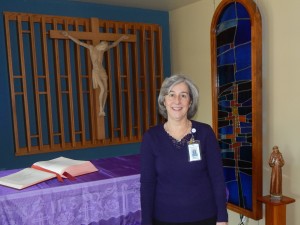 This article first appeared in the Morrison County Record and is republished with permission.
Nobody wants to die. Most people don't even want to talk about it much.
Every adult should have a health care directive completed, including naming a spokesperson in case they are unable to speak, and it needs to be notarized. St. Gabriel's Chaplain Michele Rosha is ready to help with that, as well as provide spiritual services.
Michele Rosha talks about death, almost every work day. She is the spiritual services and hospice chaplain for CHI St. Gabriel's Health, as well as the health care directive facilitator.
One of her callings is to help people prepare, as far in advance as possible, for the end of their lives — moreover, help prepare an official document, specifically about what they want done — and not done at that time.
Rosha began helping people, with end of life needs, as a hospice volunteer, 20 years ago, and soon became an employed hospice coordinator, while earning a bachelors degree in social work and a Master of Divinity degree, before being called to be the St. Gabriel's chaplain.
"I love to share what I've learned," said Rosha.
She will help anyone, no charge, prepare an official (notarized) health care directive, which, among other essentials, specifies their choices for medical intervention — or not — if they are dying and unable to communicate.
With her assistance, doing the official document takes 45 minutes to an hour. She can notarize the document when completed. An attorney is not needed. Actually filling in the form, with decisions already made, takes about 10 minutes.
This is very different than an estate will; Also it's more than a living will; And it's very necessary," said Rosha. "If you come into a hospital and can't speak for yourself, that's what a health care directive covers. Then the health care directive and the spokesperson(s), you chose, speak for you. Even if you can speak, you can give the health care agent the power to speak for you.
"Your health care agent is the person who would honor your values and beliefs, and what you want at end of life, whether or not they agree with that," Rosha said. An agent is often a spouse or relative, but not necessarily.
"It's a gift to your children to have this taken care of," she said. "One big thing is that then they won't have to 'pull the plug.' You, in effect, do that."
It's not all about pulling the plug. As well as the documented directive affirming a person's preferences about medical care, it also can include instructions about tissue or organ donation, and about desired funeral arrangements.
Of course, the directives should include, in writing, medical treatments you do or do not want, in certain situations, including: CPR (resucitation) if breathing stops, when the medical prognosis is that continuing to breath will have no other benefit. Breathing assistance by a machine is also an issue, as is artificial nutrition and hydration (feeding tube);
Instructions can also be included about what to do about a pregnancy, when an end of life event is impending.
It is advised that everyone, 18 years and older, have a health care directive completed, including a spokesperson (agent) they've chosen, and it needs to be notarized.
Later, the directive should be reviewed periodically, at least every 10 years, and updated as needed. If the person wants to make any changes to choices previously made, including naming a different agent.
"As well as the agent, you can include other people who you want to be informed of each step and have access to the your medical records — for records access, they must be at least 18 years old," Rosha said.
"All family members do not have to agree with the directive," Rosha said. "It's very rare that they all do. They can have a conversation, but ultimately the agent has the say."
Rosha, whose services are offered at no charge, recommended a non-profit organization called Honoring Choices Minnesota. It hopes to inspire and support conversations regarding end-of-life care planning, and provides a "toolkit" of video, text and web-links to support those conversations. See more at www.honoringchoices.org.
Rosha will also speak about health care directives to groups, as well as individuals. And it's not so saddening as might be imagined.
"One guy told me that the only reason he came to my talk was because he heard that I make talking about dying fun," Rosha said. "How? I listen closely, because there are elements in the conversation that can bring tears or laughter," she said and concluded, "It seems both come fairly easily."
She can help with ideas about how people can carefully, constructively begin the conversation with family or friends about creating a health care directive, such as, "I've been thinking about the future and how we've prepared for so many things. One thing we haven't talked about is future health care decisions. It's something I'd like to talk about if you're willing to join me."
When to have the conversation, how to begin the conversation, and all the details of creating a health care directive can be found on the Honoring Choices website, as well as from Rosha.
Asked why she chose to become a chaplain, Rosha said, "You know what, I think the profession chooses you; I think you get called to it."
"I had a 14-year-old nephew, Jonathan Leighton, my Godchild, who died from a brain-stem tumor," said Rosha; "I felt then like I needed to learn more about death and dying. Jonathan has been inspiring me all along the way. It's been 20 years now since his death, and he just continues to guide my life."
"I love to share what I've learned," Rosha said.
April 16 is National Health Care Directive Day. "That could be a good day to start the conversation, a big step toward having your choices known and honored," Rosha said.