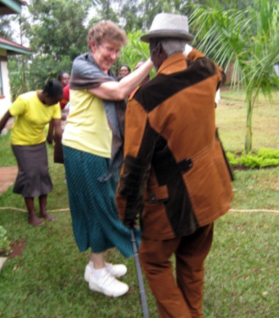 This article first appeared in the Morrison County Record and is republished with permission.
Sister Bea Eichten, OSF, community minister/president, of the Franciscan Sisters in Little Falls was part of a 16-member delegation, including Bishop Don Kettler, visiting the Diocese of Homa Bay in western Kenya, Feb. 15 – March 1. The partnership of the Dioceses of Homa Bay and St. Cloud has been in place for 17 years. It offers an opportunity to walk with hosts through simple daily activities and engage in the faith life of their community, participating in worship, prayer and parish activities.
Delegates carried gifts to six parishes, St. Paul's Cathedral in Homa Bay and the Franciscan Sisters of St. Joseph (FSJ) at Asumbi. The gifts represent the mutual sharing of our faith. Most delegates stayed in parish rectories and participated in prayers and celebration of the Mass in the parishes and out-stations, enjoying hospitality and generous meals. They were hosted with Kenyan food, music and lively celebrations.
Sister Bea visited a hospital in Kisii County and an orphanage in Kisumu for children, age 7 months to 12, who have lost parents due to AIDS. She also visited several schools in Asumbi, both day schools and boarding schools. These schools are run and staffed by the FSJ Sisters who provide for the education, health and well-being of the children. In addition, they grow the food needed for the children and patients and do the laundry and other daily tasks with only hand labor and limited resources.
"I was impressed with the care of the Sisters for their patients and the quality education they provide their students. They do so much with so little in the way of material resources, but with much in the way of love and commitment," Sister Bea said.
Delegations are exchanged in three-year cycles with a group from Homa Bay expected in 2017.