By Sister Carol Schmit and Sister Carolyn Law, Guest Writers

This article first appeared in the Morrison County Record and is republished with permission. This is fourteenth in a series of articles on the history of the Franciscan Sisters of Little Falls.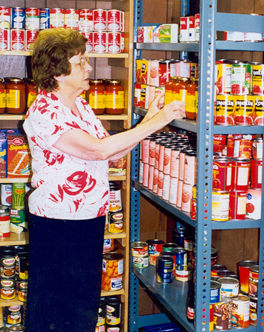 Sister Kathleen Kelly was an Irish lass with a hearty chuckle and a twinkle in her eyes. She was born Jan. 9, 1919, in the supportive farming community of Leaf Valley, north of Brandon. Even with her various levels of higher education, her serving the Catholic Church in Washington, D.C., her teaching and counseling, she was drawn back to her roots, as her brother, Jerry, describes, "to her commitment to serve the poor. She never forgot the poor."
In her many years of service in Morrison County, she was often recognized for her dedication to and direct involvement in many social programs.
In 1993, Sister Kathleen was nominated for the Minnesota Council for Quality Service Award stemming from her work with the Red Cross, Salvation Army, Tri-County Community Action, Mid-Minnesota Business Concepts and the Food Shelf. The nomination reads: "She is always there when people in need seek help, when law enforcement or area fire departments call on her for help with people who are homeless or families who have lost their home and/or possessions to a fire. She offers a shoulder for people to cry on and goes above and beyond the call of duty in her work. She always treats people with dignity and fairness and is an excellent example of the teachings of St. Francis."
She became director of the Franciscan Sisters Service Assistance to the Little Falls area (SALFa) program in 1986, just two years after its foundation and served there until her retirement almost 20 years later. The SALFa program included the community garden project on the Franciscan Sisters' campus, emergency assistance counseling services in collaboration with Catholic Charities, outreach to the elderly, and collaboration with the beginnings of the Morrison County Food Shelf. The Food Shelf was a joint effort of area churches and for 20 years was housed in the basement of Hurrle Hall.
After outgrowing the space there, in 2004 the Food Shelf was relocated to a newly constructed building at its present location on First Avenue Southwest in Little Falls. During her years of service at the Food Shelf, Sister Kathleen was named WCCO's Good Neighbor.
Sister Kathleen can take a bit of credit to the spark that has kept this community service alive. Food Shelf co-director, Carol Schirmers Johnson, reports, "Each month over 1,000 individuals are served — that amounts to 33,000 pounds of food. It takes the collaboration of Second Harvest and 50-60 volunteers, plus donations from countless individuals, to make this service a sparkling jewel in Morrison County."
Jerry, the youngest of the 10 Kelly children, can trace an indescribable link to his sister's influence in his long-time involvement in the Food Shelf in Buffalo, Minn. Under the auspices of the Buffalo Food Shelf, Jerry and his wife Sharon developed a popular mobile food shelf. This is a monthly home delivery program in which food from the Food Shelf is delivered to the homes of a growing number of persons who can't get to the food distribution center.
There is more to say about Sister Kathleen's outstanding qualities. But in this, National Food Shelf Month, she is remembered.
Filed Under: food shelf, Franciscan Sisters of Little Falls, Little Falls, March Food Shelf Month, morrison county, Pierz, Randall/Cushing, royalton/bowlus, Sister Kathleen Kelly, Swanville/Upsala