By Elizabeth Rydeen, Guest Writer
This article first appeared in the Morrison County Record and is republished with permission. This is thirteenth in a series of articles on the history of the Franciscan Sisters of Little Falls.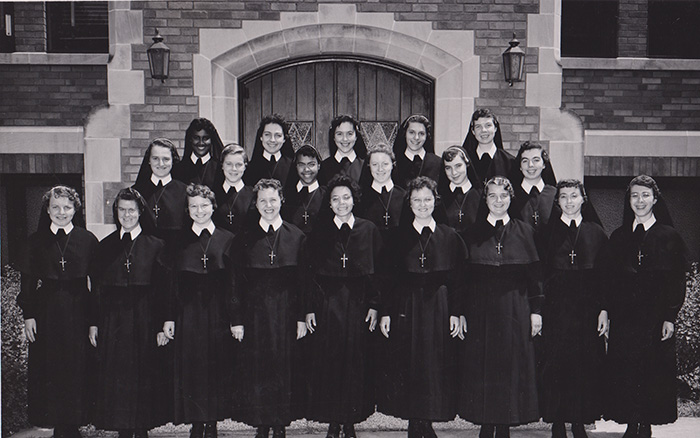 Sister Callista attended Catholic schools in Chicago and found herself drawn to religious life. A local priest wrote to a number of communities saying that he knew several African American young women interested in becoming sisters. The underlying question in 1958: would they be welcome? History showed that racism and discrimination in religious communities mirrored that of mainstream America, especially during the Civil Rights Era. The Franciscan Sisters of Little Falls was one of the communities that received an inquiry. Sister Thomasine, who was the mother superior at the time, made arrangements to meet with the three high school seniors at a vocation gathering in Chicago. It was Sister Thomasine's kindness and sincere concern that inspired the young women to join the convent in Little Falls.
The three were among a class of some 20 postulants who were all making their way in a new culture that was religious life. All their classmates were from rural communities in Minnesota; by contrast, they were from urban Chicago. All postulants were, for the most part, silent during the day, and the brief time during recreation at night, when they could converse, didn't allow them to really get to know one another. Classmate Sister Susan Knutson said, "We knew that their skin and their hair were different, but we were all new to the convent. We were all treated the same and didn't have any concept of what segregation really meant or what was happening in the South."
Of the three sisters from Chicago, Sister Callista is the only one who remained in religious life. Corinne Comus (Sister Crispin) and Adriean Young (Sister Michaelina), both nurses, left the community in the '70s after Vatican II. All told, the Franciscan Sisters welcomed seven African American women into the community. All but Sister Callista left the convent and moved on to other things.
After first vows, Sister Callista served as a switchboard operator and receptionist for over a decade. She received a bachelor of arts degree and began teaching at Harambee Community School in Milwaukee in 1975. After teaching and serving as principal and administrator at several different schools, as well as obtaining a master's degree along the way, she moved into adult education in 2001. Today she serves as the coordinator of the Brother Booker Ashe Lay Ministry Program and assistant administrator at the Adult Learning Center. Sister Callista is committed to faith formation of African American Catholics and is well known as a role model for the African American community. She chairs the Black Religious and Clergy of Wisconsin and is a member of the National Black Sisters' Conference currently serving as president.
About race relations and the current climate, Sister Callista has much to say, "Black mothers are training their sons to be careful, to comply. We cannot deny blatant racism." She challenges us to be aware, to be informed of what is happening. "Racism comes when institutions have certain values for one group over another. It's the basis of much of what's going on in our country."
Sister Callista was part of a group of 70 individuals from the Joint Conference, consisting of members from the National Black Sisters' Conference, National Black Clergy Caucus, National Association of Black Catholic Deacons and National Black Catholic Seminarians Association, who were allowed into Emmanuel AME Church in Charleston after the mass shooting where nine people were killed.
She describes the feeling as eerie "… to look at the pews, visualizing what had happened there. A worship service had been prepared, other spontaneous prayers 'just came.' As they left the church, she felt those who died were martyrs. "Black people forgive. An example has been set. In spite of anger and injustices, there's a sense of forgiveness that's prevalent in the African American community," Sister Callista said.