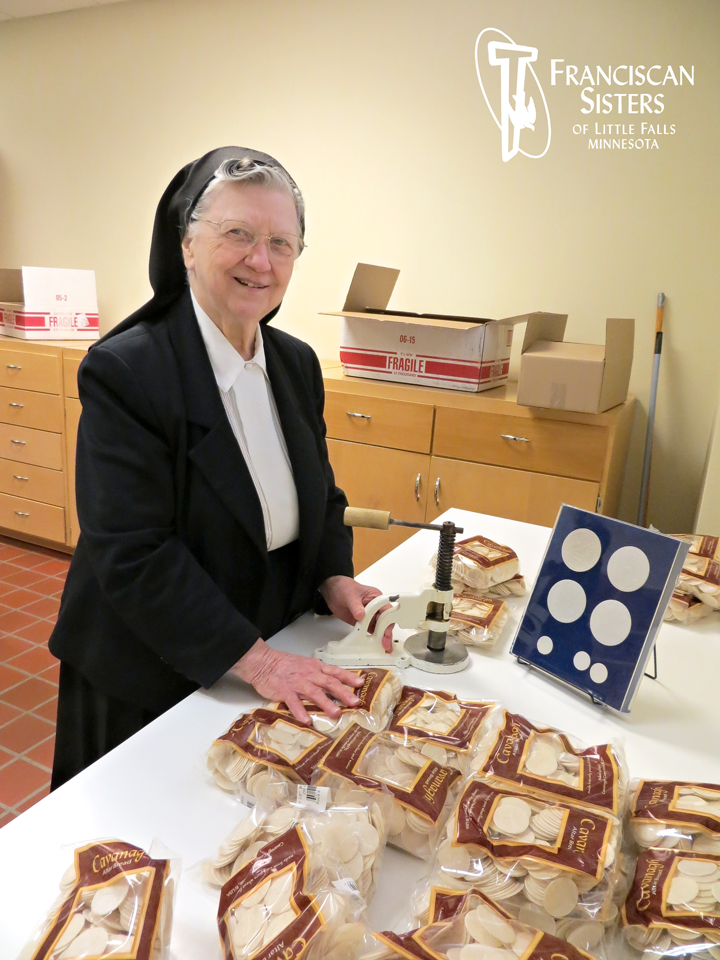 At the Last Supper, Jesus took bread, blessed it, broke it and gave it to His disciples saying, "Take this and eat it. This is my body."
Since 1898, the Franciscan Sisters have baked and distributed altar breads which, once consecrated, become the Body of Christ. A holy ministry.
In those early days, sisters made unleavened wafers for 15 parishes using an altar bread oven that cost $13.70, under poorly lit and poorly equipped circumstances. As Sister Eustachia (Frances) Walz said, "With God's help, we accomplished what we were asked to do."
Working with minimal equipment and in a sparse environment, the sisters mixed the batter with an ordinary kitchen mixer that often burned out because of the thick batter, poured it onto a waffle-like oven, baked, steamed, turned the cutter machine by hand, cut each host one by one and counted each, one by one. They made their own mailing boxes from old posters discarded by local stores; novices cut the cardboard, creased it with a screwdriver and folded the boxes into shape. "Sister Alma Barthel had said of the process, "A little masking tape, some ordinary flour paste and a little wallpaper quickly turns the box into an attractive package for carrying the hosts safely." They steamed the brittle wafers by boiling water in soup cans and placing them in a box to soften the sheets.
The process wasn't without mishaps, especially before the advent of electricity. Sister Esther Thelen was quoted as saying, "When I first started, it looked like I baked ginger breads. I burned so many."
Providing hosts for the Eucharist was a ministry freely given. Until 1967, hosts were free to those who requested them, although donations were graciously accepted. Sister Anselma Billig, who did bookwork for the department, said, "When we first started making hosts, many of the parishes were very poor. This was our contribution to them."
Eventually they purchased an electric cutter, stainless steel steamer and an automatic baker and installed a telephone and fluorescent lights. It wasn't until 1984 that the sisters enjoyed a central cooling system.
During the 1990s, sisters baked approximately 3.5 million altar breads annually, using 1,000 pounds of flour every five to six weeks, and mailed to Catholics and non-Catholics alike. The flour, usually Robin Hood and Occident, was purchased from local Little Falls vendors – Schafer's Red Owl, Green's Red Owl, Super Value, IGA, Don's Food Pride and Parker's Food Pride.
"Odd-shaped scraps were brushed with garlic salt or ole or butter, baked at 400 or 500 degrees for a minute until the moisture was gone, then crumbled up, and they were better than potato chips," Sister Giovanni Becker said in 1973.
The baking ended in 2005 due to sisters' declining health and the transitioning of staff. However, Sister Anne Furnstahl continued the restructured ministry by purchasing ready-made wafers through the Cavanaugh Company in Rhode Island. For 10 years, she filled orders for 150 parishes, schools, convents, colleges, nursing homes and hospitals.
Sister Anne said, "As we baked and, later, packaged the wafers, we prayed for God's blessing on those who would receive grace as they received Jesus." She also hosted 1,000 children and adults a year for tours when she reveled in the "excitement of the children watching the process" as part of their religious education.
At Mass, the priest says, "Behold the Lamb of God, behold him who takes away the sins of the world. Blessed are those called to the supper of the Lamb." Believers respond, "Lord, I am not worthy that you should enter under my roof, but only say the word and my soul shall be healed."
"The Eucharist is our life," said Sister Adella Blonigen who worked in the department for 33 years. "It is central to our Franciscan life. God with us."
Involved in the ministry over the years were Sisters Alma Barthel, Gertrude Beauvais, Giovanni Becker, Anselma Billig, Adella Blonigen, Josephine Brake, Genevieve Burke, Anne Furnstahl, Anita Hennek, Stigmata Lepage, Germaine Michels, Esther Thelen, Eustachia (Frances) Walz and Rachel Zenzen. Their ministry's motto: "A Labor of Love."
"All of us," Sister Anne said, "were fortunate to bake for the banquet of the Lord." The altar bread ministry closed Jan. 1, 2016. After 41 plus years, Sister Anne has only praise for the work. "It has been my privilege to work in this ministry, serving the people of God, including my Franciscan Sisters."
Photo Caption: Sister Anne Furnstahl prepares the last of her orders for altar breads. Her hands touch both the old and newer ways of how the sisters did altar breads for 117 years. "All of us," Sister Anne said, "were fortunate to bake for the banquet of the Lord." The altar bread ministry closed January 1, 2016. After 41 plus years, Sister Anne has only praise for the work. "It has been my privilege to work in this ministry, serving the people of God including my Franciscan Sisters."