Deanna Boone, CRD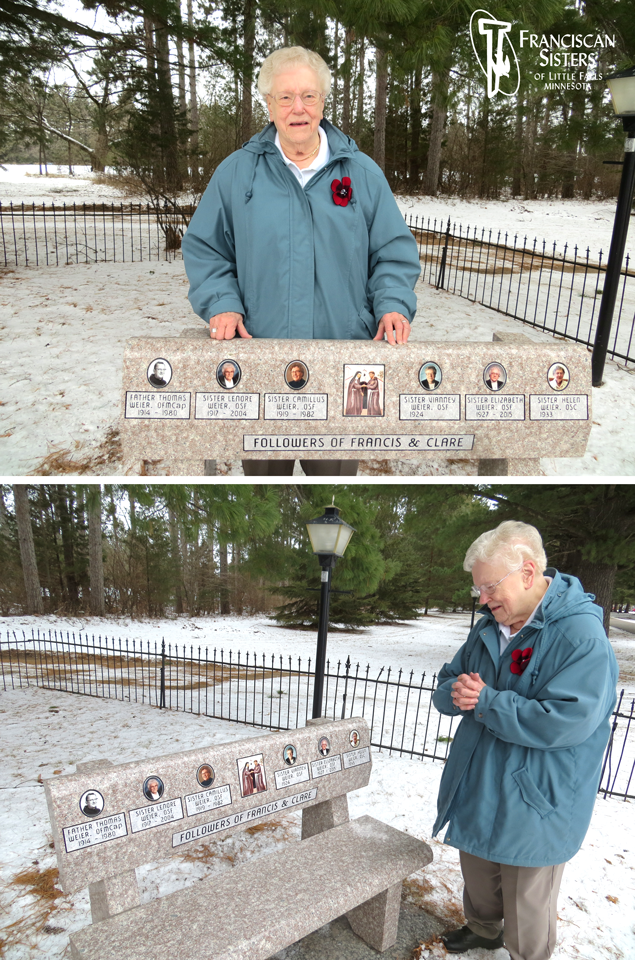 When weather permits, walk to the cemetery and notice the new bench on the far right side as you enter the hallowed grounds. That's where the newest bench – and the last that is available for engraving – is located.
Thanks to nieces and nephews, the bench is dedicated to six Followers of Francis & Clare: Father Thomas, Sister Lenore, Sister Camillus, Sister Vianney, Sister Elizabeth and Sister Helen Weier. Six of the 12 siblings entered religious life.
Sister Vianney said, "Sister Helen and I are so grateful to our nieces and nephews. The timing of the installation was a wonderful Christmas gift. When the weather is warm, we look forward to sitting there and giving thanks to the sisters who have gone before us and to our family who honored us in such a meaningful way."
Little Falls Granite Works donated six granite benches, four of which were to be used for fundraising. The family of Sisters Alma and Rita Barthel donated for the bench that sits at the west main entrance; Sisters Yvonne and Johnelle Becker's family donated for the one near the Mary Hall entrance; and Sister Thomasine Schmolke's sisters and their families donated for the one facing the Grotto. The other two honor members of Ron Nagel's family, Marla Nagel and Corinne Guild.
Photo Description: Sister Vianney Weier