By Elizabeth Rydeen, Guest Writer
This article first appeared in the
Morrison County Record
and is republished with permission. This is tenth in a series of articles on the history of the Franciscan Sisters of Little Falls.
The Franciscan Sisters, along with their ministries, dedicate their entire lives to prayer.
Remembering their early days in community, the sisters say they prayed "a lot" and followed a strict prayer schedule. "The level of discipline was tough," said Sister Rose Mae Rausch. "But it was part of giving my life to God directly as a sister."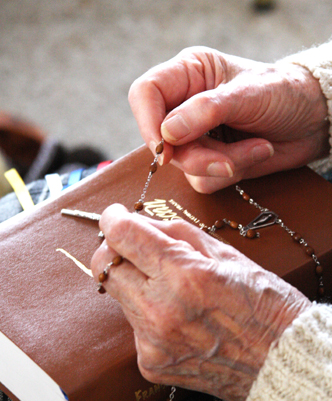 It was a challenge, especially since their call was to service, apostolic in nature, and they worked long hours staffing hospitals, caring for the elderly and teaching school. The sisters remember, as young novices, the many prayers they had to learn, most in Latin.
It seemed there was a prayer for everything — a prayer as they walked to chapel which gave way to more formal prayer once they crossed the threshold.
Sister Carol Schmit realizes now, after many years in community, the power of a chapel full of sisters in meditation together, in silence, but at the same time, she sees the power of prayer in ways she didn't when she was 18, 19 or 20 years old.
The sisters rose early by 5 a.m. Their "Prayer While Dressing" began: "Clothe me, my God, with the robe of innocence and adorn my heart," and with each article — habit, cord and rosary, cross, guimpe, veil — there were more prayers. Having everything laid out the night before allowed time for morning prayer before the 6 a.m. Mass.
At noon (formerly called Particular Examen) the sisters reflected on their "spiritual journey" thus far that day. There were Vespers in the afternoon, then evening prayer and finally bed.
Each day consisted of one to two hours of prayer, communal and private, along with Mass. Indeed, it was difficult to fit them all in with the sisters' busy work schedule. They often whispered among themselves, "Did you get your Vespers in?"
This strict schedule of prayer, including rules of silence during the day and grand silence through the night, came about due to the Code of Canon Law imposed by the Catholic Church in 1917 worldwide.
This new set of rules affecting religious communities was monastic in nature. Religious were instructed to become more cloistered, to separate themselves from the laity. These new restrictions were a challenge for the Franciscan Sisters as they felt called to be with the people.
Some 40 years later, the Second Vatican Council convened and brought changes to the Church and to religious life. A time for renewal and reflection, religious communities were encouraged to study their roots, to implement the original intentions of their founders and to adapt their lives to the contemporary world.
"Our early sisters did not follow this strict schedule; they were, in a sense, more free," said Sister Rose Mae. "As Saint Francis, and as Jesus, they were out among the people."
The vision of the founding sisters was to be mendicants, meaning out with the people begging for their daily needs, which they did in the early days when they needed funds to build their first convent. The first sisters lived as itinerants — they moved about. Their philosophy: "Go where there is need. Withdraw when the need no longer holds."
Today the majority of the Franciscan Sisters are retired or semi-retired and prayer remains a central focus of their lives. "Our life is prayer; our work is prayer," said Sister Vianney Weier. They gather in small groups for morning prayer and, as a community, for daily Eucharist and evening prayer. Sisters often have a special prayer space in their rooms for personal prayer and contemplation. They spend extended time reflecting on the daily Scriptures and their call, their vocation, as gospel women.
"It is our desire to walk with others as sisters and brothers in search of God," said Sister Cordy Korkowski. To that end, the sisters welcome the public to daily Mass and offer Taize and Centering Prayer on a regular schedule. The public is welcome to join the sisters.
This is a series of the history of the Franciscan Sisters as they lead into the observance of their 125th anniversary in the community, which occurs in 2016.