By Deanna Boone, Director of Community Relations, Franciscan Sisters, Little Falls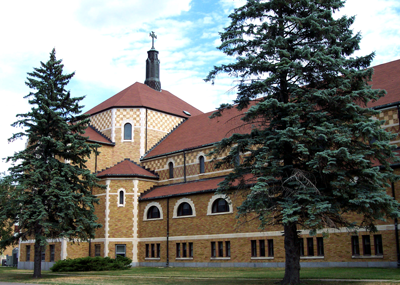 The Franciscan Sisters of Little Falls came together in early October to continue discussion of their visioning and future planning. As a community of 128 women religious, "We make decisions that are based on our Franciscan values. Community-wide we study and analyze options that are before us, we seek opinions of others with specific skills, we openly dream and, most importantly, we spend time in prayer," said Community Minister Sister Bea Eichten,.
"We spend considerable time listening to one another, letting each sister's voice be heard," she said. "We gather facts and share feelings before we ultimately settle into a consensus and collective peace with a decision."
Demographics show that "We are an aging community; our numbers grow smaller with each passing year. As a result, we need to be strategic as we look to the years ahead which means planning for the care of each sister for the rest of her life. We take that very seriously. Very seriously, indeed," Sister Eichten said.
The sisters have delved into their many Franciscan ministries to see where they want to invest their time and energy. A case in point is the Clothes Review which, after study and over time, was transferred to the New 2 You Thrift Store in Little Falls, operated to benefit the Little Falls Boys and Girls Club.
"It was the right time for that decision," Sister Eichten explained. "Sisters started the ministry in 1969 and, in 2014, we saw that it was the right time to place the ministry in other capable hands. Just as Saint Francis did, we have 'done what was ours to do.'"
In addition, the sisters are working with the directors of St. Francis Music Center and St. Francis Health and Recreation to find ways to strengthen these ministries so they can continue to serve the people of the Little Falls area into the future.
"As we look to the future, we look at our current reality, what we need and what we can financially support in terms of physical space and ongoing ministries," Sister Eichten said.
The Franciscan Sisters are deeply rooted in the Little Falls community, she noted. With that in mind, the four Leadership sisters have spoken with civic groups and members of the Little Falls community about their vision and future planning process.
In 2002, with the assistance of professional consultants, they determined which of two buildings could be renovated to provide handicapped accessible living space for the sisters. Mary Hall, which once served as the orphanage and St. Otto's Home, were chosen for their structural integrity and adaptability to current building codes. Hurrle Hall would have required more extensive investment to address significant structural issues and to upgrade it to meet the housing needs of the sisters.
"We make these decisions through the parallel lens of respect for structures that have served the Franciscan Sisters nobly all these years and of practicality for what we need now and into the future," Sister Eichten said. "We have set a long-range goal of divesting ourselves of property and buildings so as to provide us with the freedom and flexibility to continue our mission of service to the people of God into the future."
Plans are in place for Hurrle Hall to be deconstructed at a time not yet determined. The term "deconstruction" is being used rather than harsher words like "destroy" or "bulldoze" in order to give respect for what the bricks and mortar represent both in its history and in its materials.
"We Franciscans appreciate the gifts of Mother Earth and we take steps to reduce, reuse and recycle whenever possible. Thus, elements of the building will be removed for other uses before the shell is removed," Sister Eichten said.
"These steps are taken thoughtfully after much labored thought and deep prayer. Hurrle Hall is an historic landmark building for us, but it does not have an official designation as a federal or state historic landmark," she said.
In 2016, as the Franciscan Sisters will celebrate 125 years of service and commitment to gospel living; their mission, values and work are their legacy, not the buildings that make up St. Francis campus.
While the sisters continue their long-range planning, they pray and trust in a future that only God knows for sure.