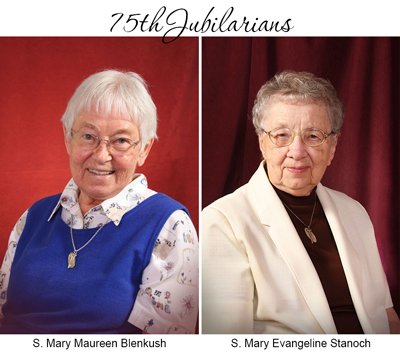 The Franciscan Sisters of Little Falls will honor Sisters Mary Maureen Blenkush and Mary Evangeline Stanoch, who will celebrate 75 years as members of the Order on Sunday, August 9. These 75 years represent many decades of dedicated service to the people of God in the spirit of Saints Francis and Clare of Assisi. A Mass of Thanksgiving will be celebrated for them at St. Francis Convent, Little Falls, followed by dinner and a reception for invited guests.
Sisters M. Evangeline and M. Maureen entered the novitiate at St. Francis Convent on August 12, 1940, and made their final profession of vows on August 12, 1945. Together, they have seen many changes in the Church and the Franciscan congregation throughout these 75 years.
Originally from the St. Stephen area, Sister M. Maureen has ministered throughout the years primarily in the healthcare field in Little Falls, Breckenridge, Crookston, Sandstone, Onamia and Mora, and in Milwaukee and Cudahy, Wis. She also ministered in parish ministry in Beardsley, Graceville, Glencoe, Fairfax and Marshall. She has served as the administrator of St. Francis Convent and also managed the Franciscan Gift Shop.
As she looks back over her 75 years in religious life, Sister M. Maureen treasures the gift of life and believes the appropriate response to this gift is to live it as fully as possible. Following the Gospel after the manner of Saint Francis of Assisi gives her the freedom to do this. She says, "I have lived a good 75 percent of the 20th century and it gave me the opportunity to be part of many significant changes."
Originally from the Opole area, Sister M. Evangeline has ministered throughout the years as supervisor, nursing service director and administrator in Little Falls, Moorhead, Breckenridge, Alexandria, Sauk Centre, Perham, and in Dodgeville, Wis. Sister Evangeline also ministered in pastoral care in Cudahy and South Milwaukee, Wis., and Little Falls.
As she looks back over her 75 years in religious life, she says she values her spirit of faith and trust in God which she learned in childhood. She says, "The privilege of daily Mass, Community prayer and Community celebrations are always precious times for me. I am most grateful for the call to live the Gospel life in this Franciscan Community. I am especially grateful to my family, friends and all with whom I have been privileged to share my journey through life."