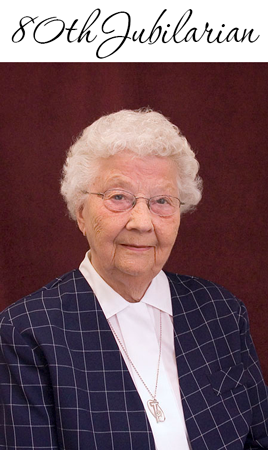 The Franciscan Sisters of Little Falls will honor Sister Mary Bernarda Sanoski, who will celebrate 80 years as a member of the Order on Sunday, August 9, 2015. These 80 years represent decades of dedicated service to the people of God in the spirit of Saints Francis and Clare of Assisi. A Mass of Thanksgiving will be celebrated for her at St. Francis Convent, Little Falls, followed by dinner and a reception for invited guests.
Sister M. Bernarda entered the novitiate at St. Francis Convent on August 12, 1935, and made her final profession of vows on August 12, 1940.


Originally from Minneota, Sister M. Bernarda has ministered throughout the years primarily in the healthcare field in Breckenridge, Little Falls, Moorhead, has served as Assistant Minister for the Leadership team of the Franciscan Sisters of Little Falls, Minnesota for four years and has served in pastoral ministry in South Dakota, Cudahy, Wis., and Breckenridge; she then ministered in parish ministry in Swanville and Flensburg.


As she looks back over her 80 years in religious life, she feels blessed to "follow her passion for living fully the gift and challenge of being human for over 80 years." She is blessed to live the Gospel way of life, the Franciscan Charism and the Community's commitment statements with fidelity; to learn, grow and serve with honesty and integrity, even in times of challenge and to foster and nurture love of person and all creation.