This article first appeared in the Morrison County Record and is republished with permission.
This is fifth in a series of articles on the history of the Franciscan Sisters of Little Falls.

By Sister Carolyn Law, Guest Writer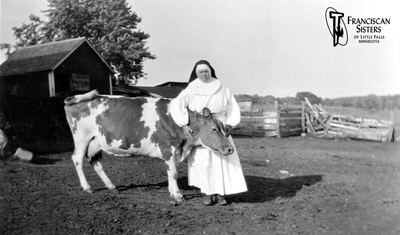 Sister Benedict Bock, one of three Bock daughters who joined St. Francis Convent, grew up in Farming, Minn. Sister Benedict is a legend in the Franciscan Community.
Noted most often is the story of her being sent in 1912 to build a hospital in Dodgeville, Wis., with only $5 in her pocket. What audacity. The truth is that seeds for a hospital had been planted through conversations with the local priest and citizens starting in 1908.


In her later years she lived at the convent in Little Falls. Sister Rose Mae Rausch recalls that in the early 1950s Sister Benedict was the one to feed the "brothers," the Sisters' affectionate name for the wandering men who rode the trains looking for work.


There was a table by the silver delivery door and everybody knew not to move it as that was the place where the hungry brothers came when passing through on the train. Sister Rose Mae remembers, "Benedict didn't just feed them. She prayed with them and asked them about their prayers."
The Brothers were never called hobos, always "brothers" in the spirit of Saint Francis who called all creatures his brothers and sisters.


Sister Benedict is a legend for other reasons, too. Sister Giles Weyandt, a distant cousin of Benedict, wrote that when Giles was young, Benedict's home remedies were renowned. Giles' father tasted Benedict's home remedy once and declared it the strongest "moon" he ever attempted.


Sister Benedict's practical approach to rules is also remembered. For example, an article she wrote for the Hospital Progress magazine in 1921 stated: "Common sense is a gift from God. A rule, while it may be and often is inspired by God, is more or less a product of human invention. We all need our rules as a guide in our lives, yet we must not live up to our rules to the submerging of our common sense."
She was a leader in having the sisters who were nurses wear a washable white habit while on duty, even though that was technically against the rules of the convent.


A humorous example of Benedict's practicality is about milking a sick cow. As a postulant, she and another new postulant were assigned to help in the barn. An ailing cow had not been milked recently. She flung her postulant veil with its purple lace into the arms of the other, now horrified postulant, and quickly and successfully milked the cow. Benedict declared, "Who can sit under a suffering cow that hasn't been milked for several days with all those ruffles and a fancy veil?"


Another time she secretly used one of her home remedies to cure a patient's leg infection. The remedy was sauerkraut juice. (Note: Antibiotics had not yet been invented.)


Sister Benedict had her ways of getting things done and administering care. While working with the orphans in Little Falls, there was an adorable red-haired boy at the orphanage. A woman came looking for a child to adopt but stipulated that she did not want a redhead. So Benedict told the woman to come back in a few days. Meanwhile Benedict used peroxide to bleach the boy's hair blond. When the woman returned, she was delighted with the blond boy.


By the time the boy's hair grew out, the woman had grown to love the boy and regretted her foolish stipulation, wondering if God was not chastising her by turning the darling boy's hair red.


Sister Carolyn Law is a Franciscan Sister in Little Falls.


Photo Caption: Sister Benedict Bock, following the rule of her heart, was friend to all, including cows. Photo courtesy of the Franciscan Sisters, archives