Sister Ardis Cloutier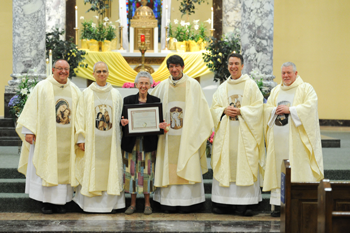 Last January, at a dinner honoring Bishop Robert Prevost, O.S.A. (newly consecrated bishop of Chulucanas, Peru), Father Bernie Scianna, the Provincial of the Chicago Augustinian Province, came to my table and said, "Ardis, I have something to tell you." I was sure it was "something to do" and when he said, "The Prior General, Father Alejandro Anton has named you as an Augustinian Affiliate," I was completely surprised and overwhelmed. Father Tom McCarthy said I turned white and he wondered if I would be able to drive home that evening. Father Bernie told me this would happen on April 25 at a Mass celebrating the Province's 75th Anniversary. The Mass was celebrated at St. Rita Parish, which was their first parish. The Augustinians came to Chicago from Villanova, Penn., in 1905 but did not become a separate province until 1940.
The affiliation ritual happened at the end of Mass. There were eight of us and each were called up separately. It was a very simple ritual and I received a plaque which says, In view of your long standing love for and dedication to the Augustinians of Our Mother of Good Counsel, and of your identification with the Augustinian spirit and way of life, as well as your dedication to the fostering of vocations to our Order, in virtue of the faculty conferred on us by the Holy See and by the Constitutions of the Order we affiliate you as a member of the Augustinian Order. By virtue of this affiliation, you are considered a member of the Augustinian Family united to us by bonds of communion and fraternity, in the same way as those who are members by profession of religious vows. In addition, you will share in all the same spiritual benefits.