Elizabeth Rydeen, CRD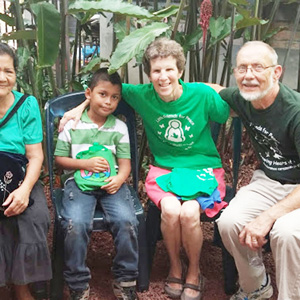 A One-World Mission grant allowed Associates MJ and Jerry Park and two volunteers to travel to El Salvador for more peacemaking activities. This would be their fourth trip. They left with clear objectives in how they would carry out their activities. Part of the plan was to establish a Peace Room and conduct another Peace Camp. Due to escalating violence in Maria Madre de los Pobres Parish, neither would materialize. Gangs have started taking over and pushing people from their homes; children are being kept from school.
Despite the threat of violence, they went through with their travel plans and were greeted by friendly and familiar faces at the airport. "It was clearly the right decision. God was extremely present at every moment, and wherever God is present is Holy," MJ said in her report. The Parks made their presence known throughout the parish as they visited homes, schools, the clinic and senior center. "They needed us to accompany them, listen to them, care about them, strengthen our relationships, be part of the solution, and share HOPE."

The people organized a Peace March, "and we marched with them, singing songs of hope and freedom and calling for Paz [Peace] and praying that people will disarm and get rid of the hate and control and begin to cooperate and work together for the betterment of all." Although the trip wasn't what they expected, it was indeed successful. They helped the people draw from the Peace Plan that has been developing over the past 30 years, which provides the tools to work for peace amidst violence. The Parks feel they were there to "bring the Franciscan spirituality of living the gospel simply, joyfully, courageously, and always in transformation—and to receive it, over and over."

Experiencing the reality of the poor and the dilemma of the people of El Salvador helped MJ and Jerry gain a "better grasp" of the situation that prompts parents to send beloved children alone on a dangerous journey to the borders of the United States. It is beyond what we in North American can imagine.

Sister Mary Zirbes, who sponsored the OWM application, has known the Parks for over 30 years and has followed their work. She believes that the work of Little Friends for Peace has the potential for peacemaking among gang members and the rest of the community.