Sister Cordy Korkowski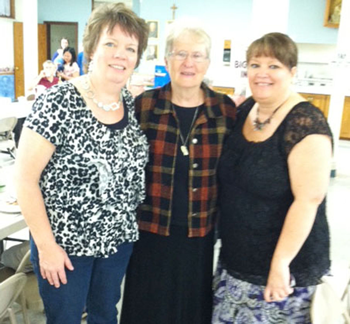 What a joy to return to Morris, Minnesota to witness the 100th anniversary of St. Mary's School. On Sunday, September 21, five of us motored to Morris in the western part of Minnesota. We enjoyed clouds and sun and the colorful leaves on our journey. It was a very beautiful trip. When we arrived, our Associates Joanne Hagstrom and Dorothy Chizek were there to meet us.
Mass was celebrated at 10 a.m. During the course of the liturgy, Father Todd Schneider, pastor at Assumption Parish acknowledged the teachers, past alumni, staffs and all families with roots at St. Mary's School. At the end of the Mass, Sister Marguerite Ostendorf, the last Franciscan teacher at St. Mary's who left in 2003, gave a meaningful acknowledgement of our time at the parish and school. Sister Marguerite expressed gratitude for the "welcoming" that our sisters experienced throughout the many years of ministry there. Sister Christelle Watercott left in 2003 also and had served in Pastoral Ministry in the parish. Both Sisters Marguerite and Christelle were very remembered by the crowd that gathered for the day of celebration.

The newly refurbished school building was blessed after Mass, which now displays new signage on the outside and renewal on the inside. The building had much destruction after a water problem in the summer that damaged a great section of the lower school building.


It was evident from the gathering that the Franciscan Sisters have left an indelible mark of goodness, ministry and friendship among the people. Other Sisters at the September 21 gathering included Sisters Clara Stang and Cordy Korkowski, who taught at St. Mary's and Sister Mary Lou Eltgroth served both as teacher and principal at St. Mary's. All of us will cherish the memories of being present and reconnecting.

The afternoon was filled with viewing the history of the school, sharing of stories, meeting former friends and students and reminiscing about life at St. Mary's. A delicious ham and beef dinner was served for all guests.


Sister Bea Eichten had sent a letter of congratulations to the school staff. A plant from the Franciscan Sisters was part of the décor at church and school.