Elizabeth Rydeen
The congregation of the Franciscan Sisters of Little Falls, Minnesota, was founded in 1891. In the 100 plus years that followed, women from near and far became members. Each one left her family home to enter into new relationships within the religious community, to live the Gospel faithfully, and to serve people in need. Many of these families of origin, rich in faith, nurtured more than one religious vocation and sometimes several. The Franciscan Sisters were especially blessed in this regard. From one family alone, six sisters joined the community. Two families each were the source of four sisters, 17 families three sisters, and 70 families two sisters! Indeed, the notion of sisterhood took on special meaning for these generous women and their families.
Today there are six sets of sisters who are members of the Franciscan community. Stories of the Weier and Ebner families follow. The other families—Furnstahl, Kroll, Mauer and Rausch—will be profiled in future issues of Our Journey.
The Ebner Sisters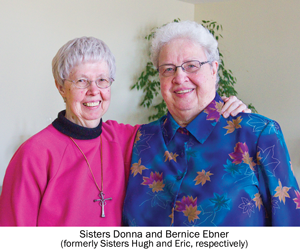 Sisters Donna and Bernice Ebner grew up in Elk River in a family of six children. Their upbringing was deeply Catholic where everything revolved around faith. They came to know the Little Falls Franciscans—not from attending parochial schools, [there were none*]—but from the sisters who came to Elk River as part of catechetical missions to the rural areas. They received their religious education from the sisters and also took piano lessons. Sister Donna said, "The sisters were wonderful people . . . full of fun." Sister Bernice remembers spending hours studying with the Franciscan Sisters for a catechetical contest in the 8th grade.
A Catholic education was a high priority. Their aunt Bernice Stenglein, who lived with the Ebner family and who would later become Sister Paschaline, was the first to head north to Little Falls and St. Francis High School. She entered the convent in 1937. Bernice was born that same year and named after her aunt. Donna followed as a freshman in 1945; Bernice in 1951, saying, "I started high school with a leaning toward religious life." As boarders they worked twice a day, side by side with the sisters, to subsidize their tuition. They "felt one with the sisters," Sister Donna remembered, which fostered their vocations to religious life.
Both sisters entered the convent during their junior years. Sister Bernice says she didn't follow Sister Donna to the convent; her call was all her own. They chose different ministries: Bernice, healthcare; Donna, education. While being blood sisters ties them together, their life in community is their true bond.
The Weier Sisters
Influenced by Franciscan Sisters who ran their local hospital, six out of 12 children from the Weier family chose religious life as a vocation. Four would become Franciscan Sisters of Little Falls.
In 1914 the Franciscan Sisters expanded their health care ministry, opening a hospital in Dodgeville, Wis. Sisters Benedict and Scholastica Bock were sent to get the mission established. They soon met the Weier family, with whom they would become fast friends. (Lizzie, the Bocks' maiden sister, worked at the hospital laundry and saved her money to support religious vocations. She helped pay the Weier family's tuition.)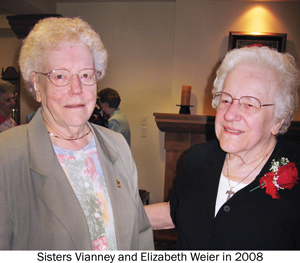 At the urging of Sister Benedict, Mary Clare, the eldest girl, went to Little Falls to attend St. Francis High School for her senior year. Reluctant to go, she never returned home, instead she joined the convent in 1937, becoming Sister Lenore. Her sister Rose (later Sister Camillus) went to St. Francis High School as a junior and entered the convent the same year. Helene (Sister Vianney) followed in 1942. Initially, she fought the call to religious life, but after a "conversation" with Father Henry Soenneker who convinced her that God was seeking her, she made her commitment.
Elizabeth Weier soon joined her sisters in Little Falls. Their mother died during her senior year. After graduation, she returned to Dodgeville to be with her father and worked for the telephone company. When her father made plans to remarry, Elizabeth returned to Little Falls. Never losing her call, she joined in 1948. "We knew you'd be back," she was told. She ministered in education, teaching many years at St. Francis High School and then in New York. Her former students remember her as Sister Urban. She changed back to her baptismal name after Vatican II. Sister Liz's three sisters were nurses, which Sister Vianney said allowed them more time together. Sisters Lenore, Camillus and Liz served in leadership positions for the Franciscan Sisters.
Like other boarding students, they worked to subsidize their education. Because of the distance to Dodgeville, the Weiers spent their vacations in Little Falls only returning home during the summer. Spending holidays with the sisters, they think, helped them establish close ties. The four Weiers started out as sisters and ended up Franciscans, celebrating different stages—receiving the habit, first vows, final vows—ALL as a family.