Joan Wingert, Secretary to the Associates
Sister Mercita Pipp's story is from her own life serving on the hospital ship, SS HOPE.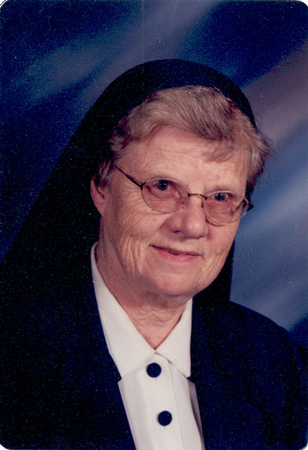 First, some background: Project HOPE founder William B. Walsh, MD, served as a medical officer aboard a destroyer during World War II. He saw first-hand the poor health conditions in the South Pacific, and he was moved to act.
In 1958, he convinced President Dwight D. Eisenhower to lend him the USS Consolation, a navy hospital ship. Over the course of two years it was transformed into the SS HOPE (Health Opportunities for People Everywhere), a peacetime hospital ship.
From 1960-1974, HOPE's doctors, nurses and technicians (all medical specialists and all volunteers), treated cases too severe for local doctors. They also trained medical personnel on and off the ship. They completed 11 voyages to Indonesia, Vietnam, Peru, Ecuador, Guinea, Nicaragua, Colombia, Ceylon (Sri Lanka), Tunisia, Jamaica and Brazil.
In 1967, Sister Mercita was one of the vice-presidents at Trinity Hospital in Milwaukee. She received a call from Dr. Walsh himself, asking her to join HOPE as nursing administrator in South America. She flew to Colombia and joined the ship's medical staff for the Colombia voyage.
Soon after, Walsh asked her to go to Venezuela, and later Central America, to evaluate their doctors and determine whether they needed what the ship had to offer. She found them to be adequately educated. On the basis of her recommendations, the ship did not go there at that time.
The Colombia mission was based in Cartagena. Nursing was not seen as a valued career, but Sister Mercita helped to change that. When HOPE was ready to sail elsewhere, she remained in Cartagena nearly five years to ensure programs begun there would continue. A subsequent evaluation by her brought the ship to Guatemala.
Ultimately, Sister Mercita served with Project Hope for 11 years. "These were the most happy and productive years of my life as a nurse," she said. "I lived the Franciscan values of helping many, many people in need, while I needed nothing—all was provided for."
There is a phrase from The Prayer of St. Francis: "Where there is despair, hope." For Sister Mercita, hope has a unique face.