The Franciscan Sisters of Little Falls will celebrate their founding on March 1 and honor all women religious a week later. "It's a time for reflection and it's a time for looking at the future," said Sister Bea Eichten, FSLF Community Minister. "This Franciscan Community and women like us around the world daily say 'Yes' to God's call for us in the world."
Bishop Donald Kettler of the St. Cloud Diocese will join the Franciscan Sisters on March 1, the 123rd anniversary of the congregation's establishment. On this day, they honor the vision of the 16 women who left their homes to minister in rural Minnesota. "We celebrate our founding and we recognize that our call is the same as their call in 1891: to serve God," Sister Bea said. "We follow in the footsteps of those who came before us and we boldly step into tomorrow with the promise that God will be with us always."
March 8-14 marks the first National Catholic Sisters Week, created by St. Catherine University in St. Paul to coincide with Women's History Month. Activities will highlight women religious, their ministries and women's potential call to enter religious life. "All women partner with Jesus in His mission to serve our sisters and brothers in the world. We do what we see as ours to do. For some that means a focus on education or health care or prayer. For all of us, it means a commitment to go where God directs us," Sister Bea added. "Our foundations are rooted in faith."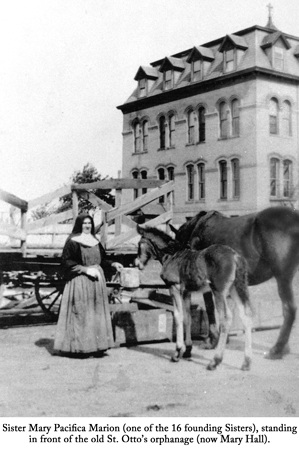 The 16 women who founded the Franciscan Sisters of Little Falls (FSLF) in 1891 had previously been members of another Franciscan congregation. They had lost contact with their original foundress and, in God's providential plan, they received permission from the Bishop of the St. Cloud Diocese to become a congregation under his jurisdiction.
These courageous women, faithful and determined, were not young, many having been born around 1850 when the average life expectancy was 40 years. Upon moving to Little Falls, they lived in a slab shanty until, with the help of generous benefactors, they were able to build a suitable convent. This building immediately served as a residence for orphan children, a hospital, a home for the aged, a school, as well as a home for the sisters.
The early members went through years of difficult discernment and anxiety. They had few possessions, little income and no guarantees. What they had was a deep belief and trust in God and in one another. They had a desire to serve and were determined to live out their religious commitment as dedicated women of God, aware of their needs and unafraid to ask God to care for them.
From these simple beginnings, the sisterhood flourished and continued to develop ministries in health care, education and social services throughout Minnesota, the United States, Mexico, Central and South America and Africa.
Today, our commitment to prayer, living the gospel and serving people in need continues. Many of our sisters work in outreach ministries that serve people on the margins, and our presence in Latin America remains strong. Our motherhouse is home to a recreation center and school for music and the arts which serves literally hundreds of people throughout the Little Falls area. One of our core values is hospitality and we welcome everyone to services at Sacred Heart Chapel and other prayer and spiritual opportunities. Monday – Friday, 11 a.m. Mass; Saturday, 11 a.m. Communion Service; Sunday, 8:30 a.m. Mass. All are welcome.