Submitted by Sister Pat Forster
Sisters Isabel Berrones, Pat Forster and Mary Dumonceaux; lay ministers Griselda Guadalupe, Juan Servando and Lupita Aguilar.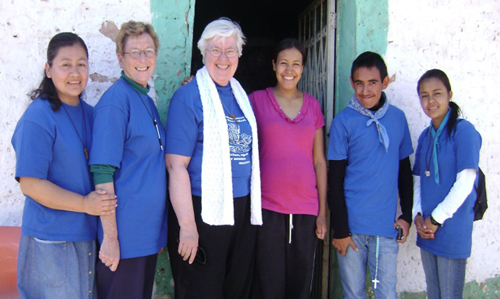 Marlem Tovar, Mezquite, Nuevo Leon
The experience of being missionaries in the Madre Sierras of San Rafael was beautiful and touched me deeply. I have never had an experience like this previously, even though I have gone to the missions other years. We met other Christians who do not call themselves Catholic. It was not easy to visit the homes of other faiths but, with the help of God, we learned from the community with whom we could visit and not cause any conflict. This was our first experience with another religion.
We arrived Saturday and immediately visited homes to invite the people to the Palm Sunday celebration of the liturgy. Sunday was low key for us because few people came to participate. Following the Sunday experience, we had more and more participation. It was very good. We were able to share all that Jesus did during that Holy Week. We hope more teens will participate in being missionaries in the years to come. We appreciate the truth of what Holy Week is about. We led all of the services, we slept in the school and we helped one another in everything. My experience was in a village called La Boca. Our team included Miriam Ortiz, Guadalupe Morales, Edgar Rodríguez, and Luis Balderas.
Lupita Aguilar, El Erial, Nuevo Leon
This second experience (I also traveled to the Sierra in 2012) was filled with gratitude because I learned new things from the people, and I relived my first experience. I also learned a simple or different way of life. The people in Biznaga have so many values, the greatest being humility and generosity. These values are seen in every action they take. I also felt the presence of my loving God in every moment. Thanks to Him I was free to know this beautiful community.
The experience is inexplicable. The people in Biznaga taught me nobility. I hope I do not ever forget these marvelous and stupendous persons. (Lupita is a teenager who missioned with Sister Isabel Berrones during Holy Week. Lupita works, plays guitar for Mass, and participates in all our church activities.)
Gladis Solis, San Ildefonso, Nuevo, Leon
My experience was one of living with people we did not know in the community of San Ildefonso, a village some two hours up in the mountains from the parish of San Rafael. We valued the little we had and became aware of God with us. The experience was one of knowing the people, so humble, with hearts so full of the love of God. Discovering God present in the lives of the families was a gift. Each family gave us so much attention; it was exceptional because it was with such love. We could see the face of God present in their lives. They have many needs but there never was a complaint, rather they gave thanks to God for what they have. They have a great faith. Now we feel committed to work for justice, a justice where all will be equal. The learnings of the mission: Value our lives, what God and our parents have given us, and be in solidarity with others because we are here to serve all, not just ourselves.
Ana Alejandra Balderas, Santa Cruz, Nuevo, Leon
My experience was marvelous. The people need the presence of others, from outside the village, to share the Word of God and to teach the significance of Holy Week, the most important week of the year. I thought the people would be ready and would be there to welcome us. It was not that way. On Palm Sunday, our first day, very few people came, and we lost energy. Slowly, after visiting homes and inviting the people, more came. We also encountered many "Christianos," who were kind and received us. On Monday we gave teachings and worked with the women while they did needle work and creative hand work. Day after day the number of participants grew. Holy Thursday more people came because their relatives were arriving from Saltillo to celebrate Easter. We also went to Las Blancas, a small village close by. The few families in Las Blancas gave us lots of positive feedback. We enjoyed being with them. Their church was very beautiful, clean and open.
It was one of the best experiences. We shared Eucharist and the Gospel each day in both villages. I give thanks to the community of Santa Cruz and to the Marin family who donated a crucifix and an image of the Virgin Mary. I am especially grateful for the team I worked with: José Gpe, Griselda, Judith, Merary, Roberto, Leydi, Edgar, Ivan and Adriana and Ana Alejandra,
Marlem Tovar, Ramiro Rodriquez, Yerisbeth Morales, Edgar de la Cruz and Miriam Ortiz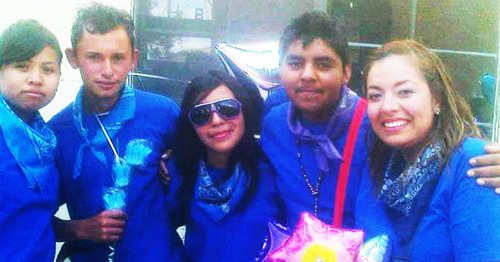 Salvador Tovar, Gladis Solis, Sister Aurora Tovar, Adela Solis and three parishioners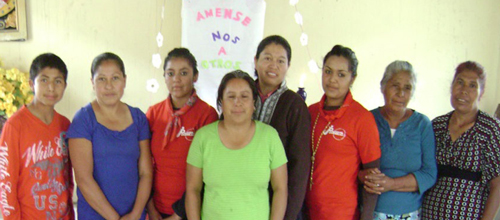 Front Row: Sister Mary Dumonceaux, Adriana and daughter, Sister Pat Forster, Griselda Rodriquez; second row: Merary Nava, Jose Flores, Ana Alejandra Balderas, Judith Silva, Jose Flores and Roberto Kaiser (a visitor from Minneapolis)