by Sr Joan Tuberty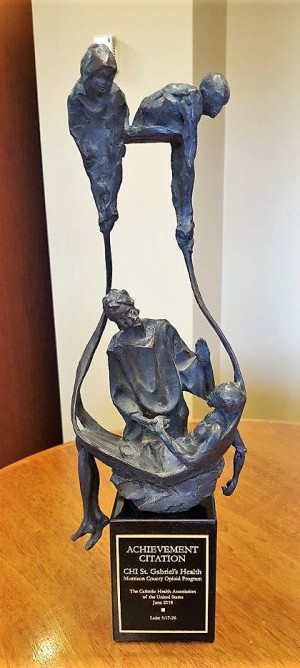 The picture of the sculpture that accompanies this article was given to CHI St. Gabriel's Hospital of Little Falls by the Catholic Health Association as it was honored with their annual Achievement Award in recognizing St. Gabe's for an outstanding, successful, innovative program that addresses the National and local Opioid Drug Crisis. Both the creativity of the scriptural sculpture given and the community of Morrison County Opioid Program led by St. Gabriel's Hospital imaginative approach to the management of pain as well as addiction is deserving of awards and of our gratitude. Those of us living at the Motherhouse enjoyed an "enlunchment" presentation and video by Kathy Lange and others. Some sisters have had the opportunity to attend programs and meetings. Because of my interest and experience of living at Exodus these past 15 years with many residents in drug treatment programs, I have been invited to attend the monthly meetings of Morrison County Prescription Drug Task Force. I attended one of those meetings June 25 with Jan Burley and Bill Osberg of St. Francis Health and Wellness and continue to learn more that needs to be shared with others.
Let me begin with the sculpture that is so expressive of the persons helping others in healing from addiction. It is inspired by the story of Jesus healing the paralytic man in the Gospel of Mark, Chapter 2:1-12. You remember the story of people bringing to Jesus a paralyzed man that took 4 persons to carry him. Because of the crowd of persons they were not able to get to Jesus who was inside. These friends would not be dissuaded by the crowd. They carried the paralytic man who could not help himself onto the roof, dug through the roof and lowered the mat he was lying on right in front of Jesus. Imagine Jesus' amazement! Jesus saw their faith! He said to the paralytic, "Son, your sins are forgiven!" "I say to you, stand up, take your mat and go to your home!" And that is what the man did before the entire crowd who were totally amazed and gave glory to God. The sculpture is a beautiful way to tell the story of those persons in our community committed to overcome obstacles, prejudice and lack of faith that healing is possible for those with addictive disorders. They are like the four persons who carry the paralytic, unable to go for healing without the supportive help of others. Then there is a need for persons skilled at drilling the hole in the roof to get them to those who know the art of healing and are able to tell the person how to rise from drugs that paralyze body, mind and soul. And then the miraculous moment comes when the person is able on his own strength to rise, get going again and return home! Yes, the scripture sculpture tells the story of these remarkably caring, skilled, competent persons working together to heal and prevent opioid addiction and other drug addiction. Who are these persons? Pharmacists, emergency room persons, doctors and nurses, police, physical trainers, educators. Saved for another story.
The latest issue of CATHOLIC HEALTH WORLD carries this amazing community story unfolding right in our midst as a follow-up of the national Achievement Award given this year by Catholic Hospital Association. I hope we can circulate this article to all of you. There is much we can be proud of and be grateful for.