Sister Ange Mayers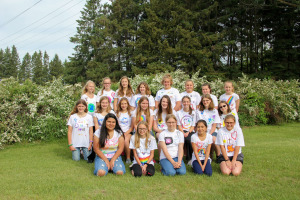 We're grateful for another successful Franciscan Girls Camp with 21 campers and seven sisters, five staff and many sister companions who led the activities and nurtured the girls throughout their time with us. This year's theme was God's Gifts Within and All Around. The weather was pleasantly cool with a brief storm in the wee hours of Wednesday morning.
The girls enjoyed all aspects of the experience from the actual camping, sleeping in tents and the meals around the campfire. They enjoyed Mass, the peace garden and labyrinth. They liked the crafts and the outdoor activities, but what's most heartwarming is when the girls answer the question what's special about this camp and respond: "Getting to know Jesus" and "You can really be yourself and talk freely about God."
That special one-on-one time spent with sisters is often the highlight of the camp. Some girls come all three years and are paired with the same sister, which really helps build relationship.
Franciscan spirituality is a core component of the camp. Several commented attending Mass was meaningful and that being silent in nature was important. They were impressed by the fact that Francis loved all creation and gave up all of his riches to serve God.
For ten years, and again this year, it took a Franciscan family—sisters, employees, volunteers—to make the Girls Camp. Thank you, all, for making this another successful and worthwhile experience.
Sister Trudy Schommer meets with Della Koep of Parkers Prairie: "When Sister Ange asked me if I would be willing to visit with a young camper at the Girls Camp this summer, I told her I would be happy to do so. But I was not prepared for just how much I would enjoy interacting with Della from Parkers Prairie. She was refreshingly articulate and happy to share her life as the oldest child in her family. She enjoyed the camp, especially the food and camp fires."