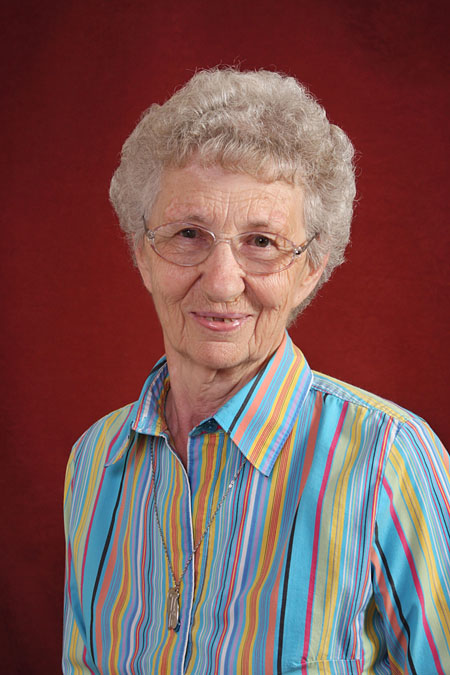 Sister Donna Marie Zetah, 88, died on March 15, 2018, at St. Francis Convent, Little Falls, Minn.
Thomas and Elizabeth (Wagner) Zetah welcomed Madonna Marie Zetah into their family on a cold December 8, 1929. At the time, they lived near Motley, Minn. Donna, as she was called, was the fifth of six children. Her maternal grandmother, Anna, was the midwife whose presence at this birth marked the beginning of a close relationship between the two of them.
Donna attended District 111, a one-room, eight-grade school. She remembers studying in the woodshed during her 7th and 8th grades for the state exams which she happily passed. She attended Staples High School for her freshman year. She experienced three major happenings in the course of that year. Her oldest brother, Duane, who was in the Air Force was killed in an airplane crash, her dear grandmother died, and the house in which she was boarding burned to the ground.
Donna's parents decided that she would attend St. Francis High School in Little Falls for the remainder of her high school years. During those years she began to feel a desire to become a sister. She wrote to many missionary communities for information, but as it turned out, she entered St. Francis Convent, Little Falls, on January 26, 1947. She was accepted as a Franciscan Sister of Little Falls, Minnesota, on August 12, 1947 and was given the religious name of Sister Mary Jerome. She made final vows on August 12, 1952. She was a Franciscan Sister for 70 years.
Sister Donna received her RN from St. Francis School of Nursing in Breckenridge. She ministered as supervisor of the maternity wards at St. Francis, at St. Gabriel's Hospital and at St. Ansgar Hospital in Moorhead from 1952-1968.
She did further study at St. Louis University, St. Louis, Mo.; Catholic University of America, Washington, D.C. and Maryknoll Language School, Cochabamba, Bolivia. She ministered as a missionary nurse in Zepita and Yunguyo, Peru, from 1969-1978. While her ministry to Hispanic peoples began in Peru, it did not end there. She returned to the United States and was involved in ministry to migrants in many parts of the United States. Her ministry of training health promoters took her to New Jersey, Florida, Minnesota, Michigan, Texas and Wisconsin. She also reached out to persons suffering the effects of war and natural disasters in Guatemala and Honduras. At two different times, she served as pastoral minister in Chimayo, N. Mex. From 1997-1999, as director of Nursing Service, she cared for her own sisters in the Care Center at St. Francis Convent. In each place, she made a lasting impact and formed lifelong friendships with those she served and with co-workers. Her more recent ministry was in Long Prairie, Minn., where she served as parish nurse and pastoral minister to Hispanics. Sister Donna continued to serve the Hispanic population in Morrison County even as her own health declined.
People truly loved Sister Donna. She ministered to them in a gracious, gentle and compassionate manner. She adapted easily from one experience, one community of people, one area, to another with much confidence. Sister Donna believed that health education began at the primary care level. In her many years of service to Hispanics and migrants and as a missionary, her goal was always to ensure basic health care for everyone. When asked to name some significant experiences from her ministries she replied, "I think all my experiences have been significant. None seems less or more than another. I am often amazed at how one experience prepares me unknowingly for the next." She had a great appreciation for her religious community and her family and felt supported by both in her service to the poor.
Sister Donna was preceded in death by her parents and siblings: Mildred Forster, Duane, Doris Mitchell and Urban. She is survived by sibling Leona (Gail) Burton of Little Falls, her sister-in-law Rose, nieces and nephews and her Franciscan Community.
A wake was held for Sister Donna on March 15. A Memorial Mass will be celebrated at St. Francis Convent on April 14, 2018 at 11 a.m. Arrangements are by Shelley Funeral Chapel, Little Falls.
Donations to Franciscan Sisters Ministries preferred.